One of my favorite things to eat when I visit Atlanta, GA is finding a King of Pops stand and having one of their ice pops. They are not the ice pops you remember as a child in vivid colors and artificial flavors. Their pops have extremely unique flavors. One of my favorites is their sea salt chocolate, it is just delicious and really makes your mouth dance! With the warm weather on the horizon, I thought this year I would try creating a few unique recipes to share and see how I do creating interesting flavors. I think I have hit a home run with this combination; strawberries, basil and cream. There are so many great ice pop molds on the market you can make ice pops in any shape you desire from rockets, cylinders and fruit shapes. These Strawberry Basil Ice Pops would also be terrific made in a smaller mold and placed in a champagne glass and topped with champagne or prosecco.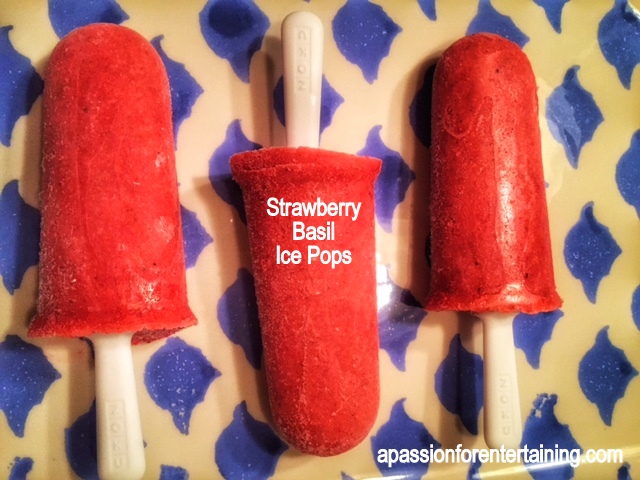 Strawberry Basil Ice Pops
Ingredients
16

ounces

hulled strawberries

1/2

cup

sugar

1/4

cup

heavy cream

3-4

fresh basil leaves

1

tablespoon

lemon juice

1

pinch

kosher salt
Instructions
Combine all of the above ingredients in a blender and puree until smooth. Pour into 6 - 3 oz. ice pop molds. Place in freezer and freeze for two hours, insert ice pop sticks in the center of each pop. Freeze until solid. Remove from mold and wrap in plastic wrap or in individual resealable bags. Return to freezer and freeze for an addition 6 - 8 hours. Serve.

Freezing the pops for a second time in the plastic wrap will create a firm and icy pop.