Now that the weather is warm and the grill is ready, I am ready to try some wonderful grilling recipes. For these kabobs, I loaded each skewers with an assortment of meat, shrimp and vegetables. I then made a basting sauce that we brushed on the kabobs as they were grilling. The results were outstanding. Easy to make ahead and grill when you need them. I prefer to use metal skewers than wood skewers, even though I always pre-soak the wood skewers in water, they always seem to burn when grilling.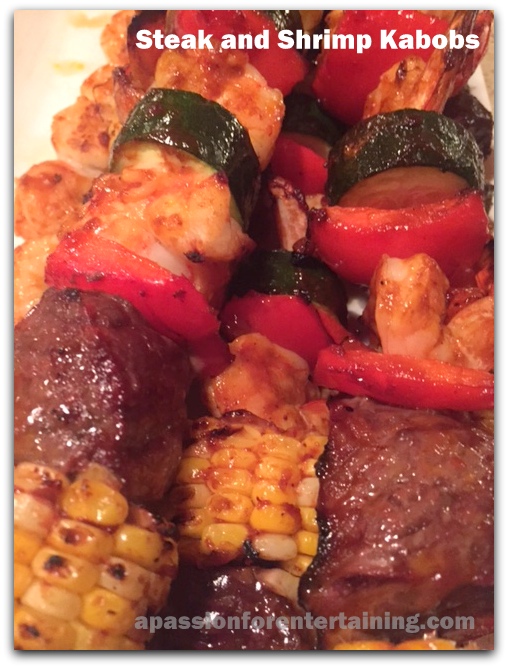 Steak and Shrimp Kabobs
2015-05-09 07:20:43
Ingredients
Cubed sirloin steak (plan 2 - 3 per skewer)
Large shrimp - peeled and deveined (plan 2 per skewer)
Zucchini - cut into 1 inch cubes (plan 2 - 3 per skewers)
Red Pepper - cut into 1 inch pieces (plan 4 per skewers)
Corn on the Cob - cut into one inch pieces (plan 2 per skewers)
Basting Sauce
1/2 cup ketchup
1/4 cup water
1/2 red onion, diced
1 tablespoon balsamic vinegar
1 tablespoon brown sugar
1 tablespoon Dijon mustard
2 tablespoon Worcestershire sauce
1/4 cup olive oil
Instructions
Prepare basting sauce in advance
In a small sauce pan over medium heat mix ketchup, water, red onion, balsamic vinegar, brown sugar, mustard, and Worcestershire sauce. Bring to a boil, reduce heat to low and simmer for ten minutes. Remove from heat and cool. When cool, whisk in the olive oil. Set aside until ready to grill kabobs.
Kabobs - thread skewers with meat, shrimp and vegetables. Refrigerated until ready to grill.
Prepare grill and grill over medium heat for approx. 15 minutes. Turn frequently. Baste with the sauce frequently the last 5 minutes of grilling.
Excellent served with a side salad.
A Passion for Entertaining http://apassionforentertaining.com/