I am sure everyone is thinking the same thing – let's start the New Year with a healthy twist. This salad is one that you can serve with grilled meats, soup, or make this salad a main dish and add grilled chicken or pork. The key is the wonderful dressing made with pure maple syrup. Make a double batch of the dressing and keep for another salad later in the week. I like to add sliced apples and dried cranberries. You can also add roasted butternut squash cubes for added interest. This salad is very easy to make and always one that you will be asked for the recipe.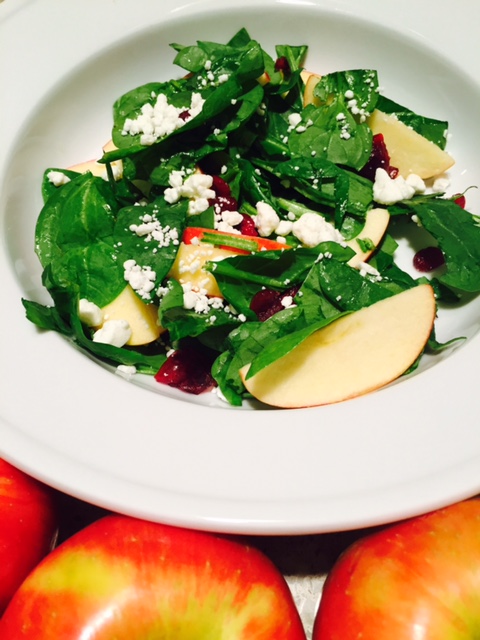 Spinach Maple Apple Salad
2015-01-03 17:13:40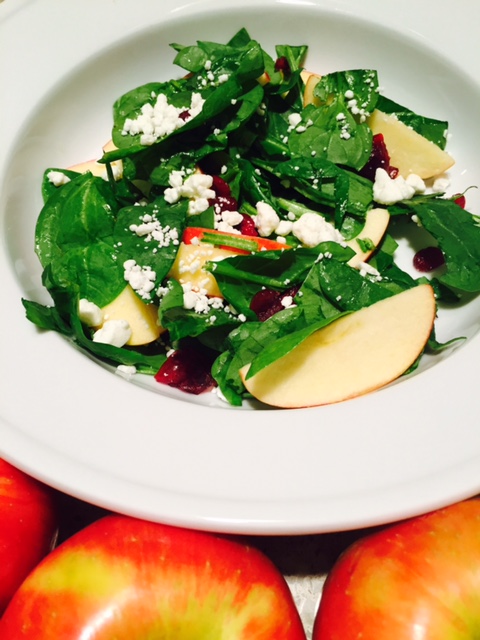 Serves 4
Delicious as a side salad or main salad with the addition of grilled chicken or pork
Ingredients
Maple Dressing
1 tablespoon dijon mustard
1 tablespoon pure maple syrup
1 teaspoon apple cider vinegar
1/4 cup extra virgin olive oil
salt and pepper to taste
_____________
4 oz. mixed greens or spinach
1 sliced apple - I prefer Honeycrisp apples, but any variety can be used
1/2 cup dried cranberries
1/3 cup goat cheese crumbles
Instructions
Combine dressing ingredients and whisk to combine. In a large salad bowl, add all of your salad ingredients, except the goat cheese. Just prior to serving, toss salad with enough dressing to just moisten (do not over dress your greens with too much dressing), top with goat cheese crumbles.
A Passion for Entertaining http://apassionforentertaining.com/