If you love a dish that packs some heat – you will love this Spicy Shrimp recipe. Marinate the shrimp one hour to up to twenty-four hours before serving. Quick, easy and make ahead; my idea of a perfect recipe. I like to serve this with hot crusty bread to sop of the spicy sauce. If you like a more mild dish, decrease the amount of cayenne pepper. When I serve this, plates are perfectly clean when finished; that is my indicator of a recipe that you will want to repeat. The perfect accompaniment is a cold beer or a chilled white wine.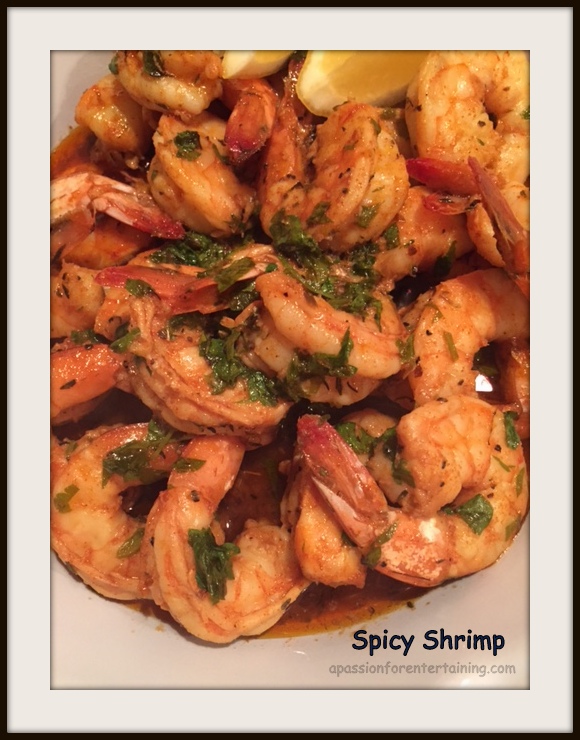 Spicy Shrimp
2015-12-01 13:47:14
Serves 3
Ingredients
1/2 cup olive oil
2 tablespoons spice mix (see below)
2 tablespoons lemon juice
2 tablespoons chopped fresh parsley
1 tablespoon honey
1 tablespoon soy sauce
1 pound large shrimp, shelled and deceived
Lemon wedges
Instructions
In a large glass baking dish, combine the olive oil, seasoning, lemon, juice, parsley, honey and soy sauce. Add shrimp and toss to coat. Cover and refrigerate at least 1 hour or overnight.
Preheat oven to 450 degrees. Bake shrimp, stirring occasionally, about 8 minutes. Serve with lemon wedges.
Notes
Spice mix
1 tablespoon paprika
1 tablespoon salt
1 teaspoon garlic salt
2 teaspoons freshly ground black pepper
2 teaspoons onion powder
1/2 tablespoon cayenne pepper
1/2 tablespoon dried thyme
1/2 tablespoon dried oregano
A Passion for Entertaining http://apassionforentertaining.com/