I am sure you all have a family favorite that your mom, dad. grandmother or other family member made every Thanksgiving Day. Spiced Peaches is the one side dish what I remember on Thanksgiving. Surprising, Spiced Peaches my husband also remembers his mom making every Thanksgiving when he was growing up. Interesting since they lived on opposite coasts and entirely different regions of the country. However, they were the same generation and that might be the clue as to why Spiced Peaches were so popular when we were growing up. Anyway, I have always made Spiced Peaches on Thanksgiving carrying on my mom's tradition and now my family requests them each year. This is the recipe that my mom always used for her Spiced Peaches. So easy to prepare in advance and great to serve along side your Thanksgiving favorites. I can guarantee you they will be on our dinner table this Thanksgiving!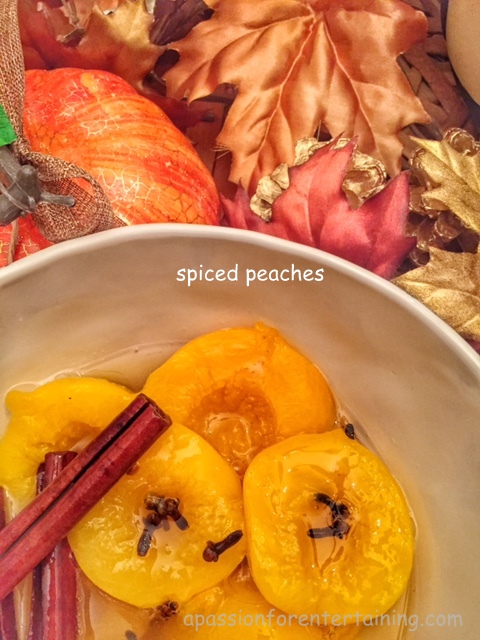 Spiced Peaches
Ingredients
2

-29 oz. cans peach halves in syrup

3-6

cinnamon sticks

1

teaspoons

whole cloves

1

tablespoon

apple cider vinegar
Instructions
Combine all ingredients in a medium saucepan. Heat to boiling, simmer for five minutes.. Remove of heat. Let cool in the spiced syrup. Refrigerate until serving.