I picked up a spaghetti squash when at the farmers market this week. I typically serve spaghetti squash with a marinara sauce. This time I wanted to try a mushroom ragu with the squash. We had some friends over for what I like to call a "blogger dinner". That means that they are my taste testers and you never know what is going to be on the menu. Many times it is an assortment of dishes that I call "Blogger Tapas". The one rule is to be perfectly honest what you think of each dish and how can I improve each one. One of our guests said he thought that a topping of grated parmesan cheese would be great with this dish. I brought out some parmesan cheese and he was so right. Topped with grated parmesan was all this dish needed to go from good to outstanding. Always fun to get the imput of others. That is what makes this food blogging so much fun. I think you all know that this is my passion and I just love sharing my recipes.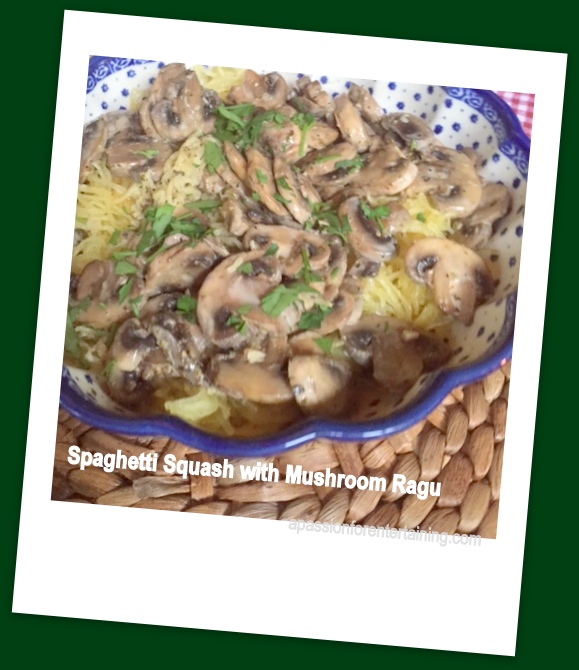 Spaghetti Squash with Mushroom Ragu
2015-08-13 12:34:40
Serves 6
Ingredients
1 medium size spaghetti squash
Salt and pepper
Olive oil
1 lb. fresh mushrooms sliced
4 tablespoon olive oil
2 teaspoon lemon juice
2 teaspoons minced parsley
2 cloves garlic, minced
1/4 teaspoon pepper
1 teaspoon salt
1/2 cup dry white wine
1/4 teaspoon oregano
1/2 cup heavy cream
Grated parmesan cheese
Instructions
Preheat oven to 450. Carefully cut squash in half, remove seeds. Line baking sheet with foil. Brush cut sides of squash with olive oil, generously salt and pepper. Put squash cut side down on foil. Bake 30 minutes. Let squash cool until you can handle the squash. With a fork, shred squash into a serving bowl, keep warm.
While the squash is cooking, heat remaining 4 tablespoons of olive oil in a large skillet with lemon juice and minced garlic. Add mushrooms, saute 5 to 7 minutes or until tender. Blend in remaining ingredients except the heavy cream. Heat to a boil, add cream, reduce heat and simmer 5 minutes. Serve over the cooked squash. Garnish with additional chopped parsley, if desired. Serve with parmesan cheese.
A Passion for Entertaining http://apassionforentertaining.com/