If you love Mexican cooking, you will love this recipe. I always make extra to freeze for a later day. Nothing better than having a busy week and having a wonderful meal ready to bake in the freezer. I purchase chicken breasts with the bone and skin on and roast them for this recipe. Simply salt and pepper the chicken and bake at 350 for 45 minutes. Then shred the chicken and you are ready to make enchiladas. Delicioso!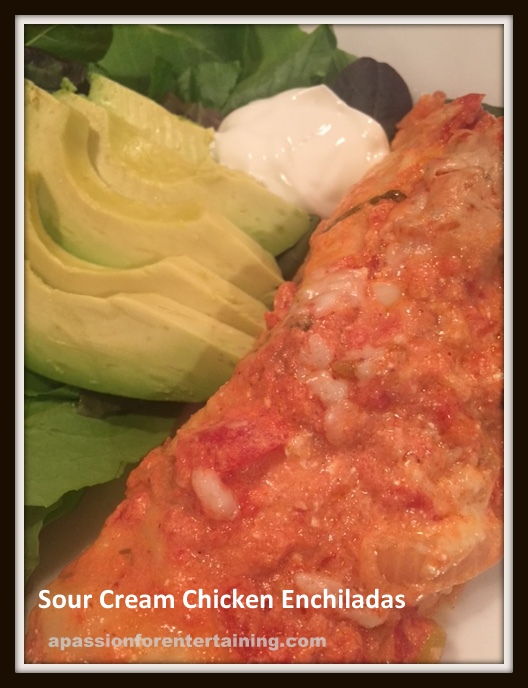 Sour Cream Chicken Enchiladas
2015-04-26 17:11:52
Ingredients
1 tablespoon olive oil
1 clove of garlic, minced
1 medium onion, diced
1 28 oz. can chopped tomatoes with juice
1 8 oz. can tomato sauce
1 small can chopped green chilies
1/2 teaspoon cumin
1 teaspoon chili powder
1/2 teaspoon basil
1/2 teaspoon oregano
1 package flour tortillas (8)
1 cup sour cream
2 chicken breasts, cooked and shredded
1 1/2 cup shredded Monterey Jack cheese
Instructions
Saute onions in olive oil until transparent, add garlic and cook an additional minute. Add tomatoes, tomato sauce, green chilies, and spices. Simmer for 45 minutes, stirring occasionally. Coat bottom of one 9 x 13 inch baking dish with 3/4 cup sauce. Dip tortillas in warm sauce; fill each with shredded chicken and cheese. Roll tortillas and place in baking dish. Repeat until tortillas are filled. Add 1 cup of sour cream to remaining sauce left in pan; pour over filled enchiladas. Top with remaining cheese. Cover and bake 350 for 30 minutes. Remove cover and cook an additional 10 minutes. Let rest 5 - 10 minutes prior to serving. Serves 4 - 6.
Notes
If you like a spicier sauce, you can easily adjust seasonings.
A Passion for Entertaining http://apassionforentertaining.com/