With all of the holiday activity going on, who has time to make dinner? My secret weapon this time of year is my slow cooker. Fix it, forget it, and come home to the wonderful aromas of dinner without all of the last minute preparation. This recipe I have been making for years, when our children were young and it seemed like we were never home, this was a staple. With both of the kids participating in team sports, it seemed like they were always looking for a healthy delicious meal. This Slow Cooker Chili is one of my go to recipes; our favorite is to serve it over pasta, topped with grated cheddar and a dollop of sour cream. This recipe is the perfect base for so many meals, tonight it is chili on a baked potato (it also is a terrific topper for your nachos) – yum!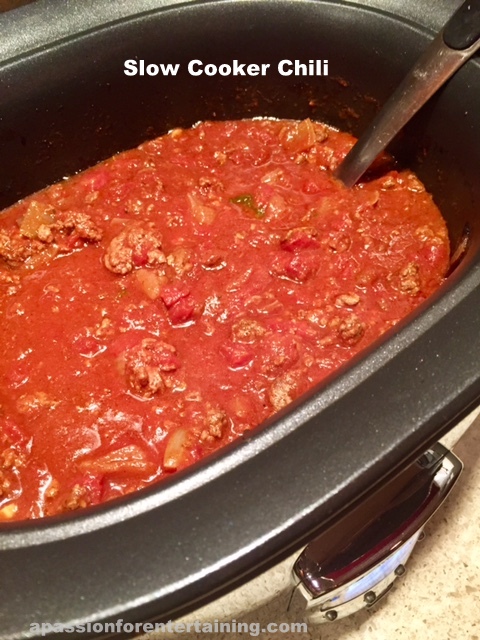 Slow Cooker Chili
2016-12-05 14:40:44
Serves 10
Ingredients
3 pounds lean ground beef
2 - 28 oz. can chopped tomatoes
2 onions, diced
2 cloves garlic, minced
3 tablespoons chili powder
1 teaspoon salt
1 teaspoon paprika
1 teaspoon oregano
1 teaspoon ground cumin
1/2 teaspoon cayenne pepper
3/4 cup beef broth
16 oz. can kidney beans (optional)
Instructions
Brown beef with onions and garlic. Combine beef mixture and all remaining ingredients in your slow cooker, stir well. Cook on low 8 - 10 hours.
A Passion for Entertaining http://apassionforentertaining.com/