This past weekend, we had a marvelous lunch at Bryan Voltaggio's Family Meal in Frederick, Maryland. We ordered the shrimp rolls that were absolutely delicious. After I got home, I wrote a few notes and here is my version. I think this would be a great recipe to have for lunch or dinner. We also had the doughnuts with strawberries, lemon crème fraiche, and strawberry gelato. Still working on recreating that winning recipe. Might just have to drive to Family Meal again to have those delicious doughnuts. If you are anywhere near Frederick, Maryland or in the DC metro area looking for a day trip, this is one place you should put on your list. I do recommend you make reservations, the place was very crowded at lunch. We did get a seat at the counter overlooking the kitchen; in my opinion that is the best seat in the house!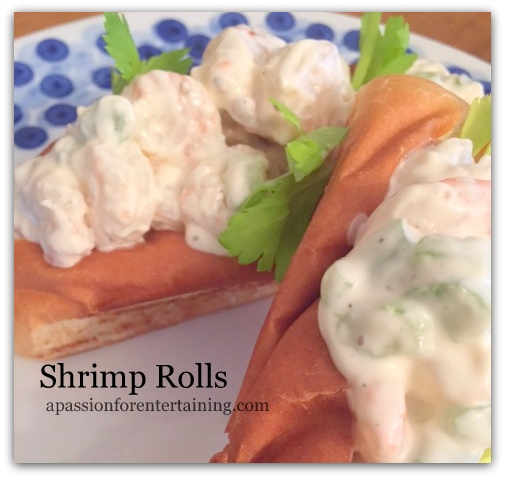 Shrimp Rolls
2015-03-24 07:53:36
Serves 4
Ingredients
1 pound of petite shrimp/70-90 count. (I always look for wild-caught shrimp from the USA)
1 cup water
1 tablespoon seafood seasoning
1 tablespoon vinegar
1/2 cup mayonnaise
1/3 cup celery, finely diced
1 teaspoon lemon juice
Salt and pepper to taste
Top sliced hot dog buns
Instructions
In a large sauce pan, combine water, seafood seasoning and vinegar. Bring to a boil and steam shrimp for 2 - 3 minutes, until they are no longer translucent and turn white.
Drain shrimp, cool
Add mayonnaise, lemon juice, celery, salt and pepper and lemon juice. Fold all ingredients together. Refrigerate.
When ready to serve, I like to toast the sides of the buns. Butter sides of buns, toast over medium heat. (I use my cast iron skillet). Generously fill with shrimp mixture. Garnish with celery leaves. Serve.
Notes
Coleslaw is a great side dish to serve with shrimp rolls.
A Passion for Entertaining http://apassionforentertaining.com/