Recipe #4 – Spartan Olive Oil #EVOOChallenge
These rolls are perfect to serve along side any entrée, but also would be great as a hamburger roll. I know that many cooks hesitate to bake bread and use yeast. This recipe is so easy and the results outstanding that I encourage you to try them. You simply mix the dough in a large mixing bowl, knead the dough (simply place the dough on a floured surface and gently incorporate the ingredients – check out this site for step-by step instructions http://www.wikihow.com/Knead-Dough) Then you let the dough rise, shape into round balls, dip in olive oil, let rise again and bake. The results – you will be a hero in the kitchen!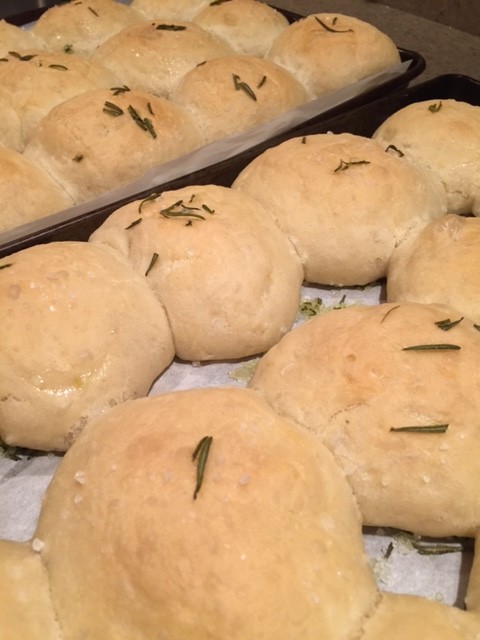 Rosemary Rolls with Olive Oil and Sea Salt
2016-01-19 15:22:55
Ingredients
3 envelopes active dry yeast
3 1/2 cups warm water
9 cups flour
1 tablespoon salt
1/2 cup chopped fresh rosemary
1/3 cup sea salt
1 cup olive oil
Instructions
Dissolve yeast in warm water in a large bowl. Stir in flour and 1 tablespoon salt; mix well. Turn dough onto lightly floured surface; kneed until smooth and elastic. Place dough in a lightly greased large bowl; turn dough to grease top. Cover with plastic wrap and let rise in a warm place 2 hours. Line 2 baking sheets with parchment. Sprinkle both sheets generously with rosemary and sea salt. Punch dough down. Divide into dough into 36 to 48 pieces. Shape each into a 2 1/2 inch ball. Dip each ball into olive oil and sprinkle with rosemary. Place on parchment-lined baking sheets. Let rise until double. Heat oven to 350 degrees. Bake approximately 25 minutes or until golden brown.
A Passion for Entertaining http://apassionforentertaining.com/