I was in the produce department and picked up a few Bosc pears, baby spinach, and goat cheese. I then thought I would create a roasted pear salad. I have baked pears previously, however this time I thought a salad with a warm pear would be delicious. I am writing this the morning after I served this salad, it was so good, I don't want to forget how I made this salad. The goat cheese melts on the warm pear and the result is wonderful.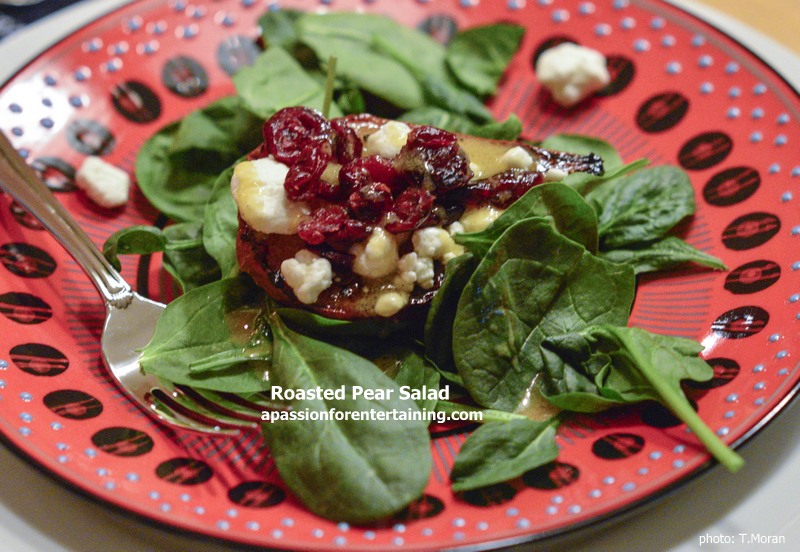 Roasted Pear Salad
2015-02-23 08:12:34
Serves 4
Ingredients
2 Bosc pears
1 tablespoon honey
1 teaspoon bourbon (optional)
2 tablespoons butter, melted
1/8 -1/4 teaspoon roasted red pepper flakes (add amount according to your preference)
1/4 teaspoon cinnamon
fresh baby spinach
Goat cheese crumbles
Dried cranberries
Maple dressing
Instructions
Preheat oven to 400
Cut pears in 1/2 and remove core. Place flat side up in a baking dish. Mix honey and bourbon together and drizzle over pears. Drizzle butter and sprinkle with red pepper and cinnamon. Bake 15 minutes, turn pears over and bake and additional 5 minutes.
Prepare salad plates. On plates put a layer of spinach leaves. Top with warm pear, goat cheese crumbles and dried cranberries. Drizzle with maple dressing. Salt and pepper, if desired.
Notes
Maple dressing
1 tablespoon pure maple syrup
1 tablespoon Dijon mustard
1/4 cup extra virgin olive oil
1 teaspoon apple cider vinegar
Salt and pepper
Mix well.
A Passion for Entertaining http://apassionforentertaining.com/