This recipe brings back memories when I was growing up. Having a Jelly Roll was a holiday staple and I remember my mom rolling the thin cake in a sugar covered towel. I think kitchen memories are some of the best you can have. No doubt, whatever kitchen memory you have growing up was a labor of love. I think the popularity of the basic Jelly Roll has diminished over time; I think it is one of the best desserts you can serve. It is not too sweet, easy to prepare and always looks beautiful with every slice. I like to use red currant jelly, my mom always used red raspberry jam, the choice is yours…..the resutls will be delicious!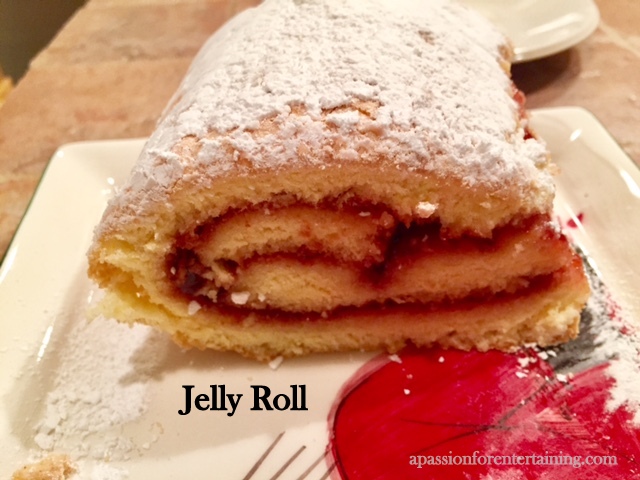 Jelly Roll
2016-12-13 05:02:31
Serves 8
Ingredients
6 eggs, separated
1/4 cup water
1 1/2 cups sugar, divided
1 teaspoon vanilla extract
1/2 teaspoon lemon extract
1 1/4 cups cake flour
1/2 teaspoon baking powder
1/2 teaspoon salt
1 teaspoon cream of tartar
Confectioners sugar
1 - 12 oz. jar raspberry or red currant jelly
Instructions
Line a greased 15x10x1 in pan with parchment paper, spray parchment with cooking spray.
Preheat oven to 350 degrees.
Separate eggs, let egg whites stand at room temperature for 30 minutes. In a large mixing bowl, beat egg yolks and water on high speed until thick and lemon-colored, approx. 5 minutes. Slowly add 1 cup of sugar. Add extracts. Combine flour, baking powder and salt - slowly add to egg yolk mixture.
Add cream of tartar to egg whites and beat until soft peaks form. Slowly add remaining 1/2 cup sugar, beat on high speed until soft glossy peaks form.
Fold 1/4 of egg white mixture into egg yolk mixture, then fold in remaining egg whites.
Spread evenly in prepared pan.
Bake 18 - 22 minutes or until cake springs back when lightly touched. Cool on rack 5 minutes. Invert cake on a kitchen towel that has been dusted with confectioners sugar. Gently peel of parchment paper. Roll up cake in the towel jelly-roll style starting with the 10 inch side of the cake. Cool completely on a wire rack. When cool, unroll cake and spread evenly with jelly. Roll up, dust with confectioners sugar.
A Passion for Entertaining http://apassionforentertaining.com/