There are so many terrific ways to cook and serve pork tenderloin. Pork tenderloin is the perfect entrée for quick family dinners, dinner parties, or casual dining. This recipe is make ahead, marinate in the morning and grill when you are ready to eat. How may ways can I say – easy and marvelous.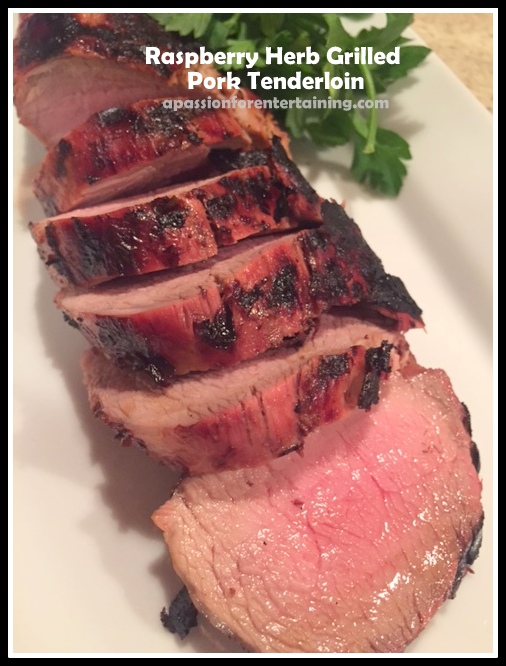 Raspberry Herb Grilled Pork Tenderloin
2015-04-21 11:59:11
Ingredients
1/2 cup raspberry vinegar
2 cloves garlic, minced
1 tablespoon Dijon mustard
1 tablespoon honey
1 tablespoon fresh thyme leaves
1 teaspoon coarsely ground black pepper
2 pork tenderloins
Instructions
Combine raspberry vinegar, garlic, mustard, honey, thyme, and pepper in a large zip top bag. Add pork, turn to coat. Refrigerate for at least 2 hours and up to 24 hours, occasionally turning.
Prepare grill. Remove tenderloins for marinade and reserve marinade for basting while cooking. (Do not serve uncooked marinade). Cook over medium heat for 8 - 10 minutes, turn on all four sides (I prefer 155 - 160 degrees for medium). Baste often with reserved marinade. Remove from heat, tent with foil and let rest for 10 minutes. Slice on the diagonal and serve.
A Passion for Entertaining http://apassionforentertaining.com/