It's that time of year – everything pumpkin! After I just arranged two pumpkins on our front porch, I thought it was time to bring out the pumpkin recipes. This muffin recipe has a surprise cream cheese filling. Perfect to have with a hot cup of coffee or tea on the chilly mornings. These can be on your breakfast table in under 50 minutes. And…. your kitchen will smell wonderful. I just love fall!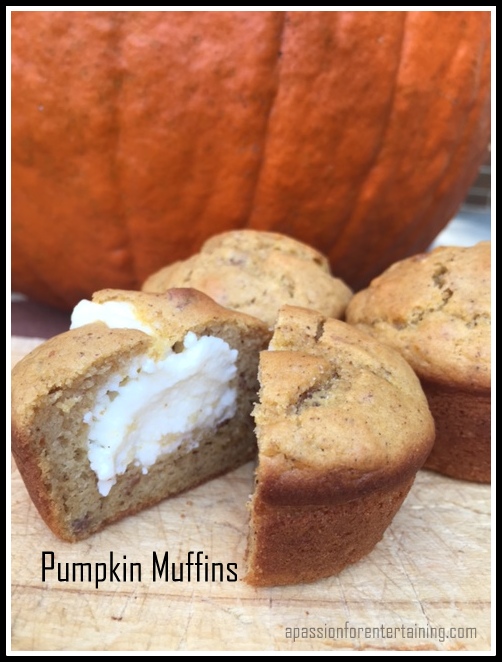 Pumpkin Muffins
2015-10-15 14:15:50
Ingredients
1/2 cup canned pumpkin
1/3 cup packed brown sugar
1/2 cup milk
1/4 cup canola oil
2 eggs, lightly beaten
1 1/2 cups flour
2 1/2 teaspoons baking powder
1 teaspoon ground cinnamon
1/2 teaspoon salt
1/2 teaspoon ground cloves
1/2 cup chopped nuts
Cream Cheese filling (below)
Instructions
Heat oven to 400 degrees. Grease bottoms only of 12 muffin cups.
Make cream cheese filling, set aside.
In a large bowl mix together the pumpkin, brown sugar, milk, oil and eggs. Stir in remaining ingredients except the nuts, just until the flour is moistened. Stir in the nuts.
Fill muffin cups 1/3 full. Top each with approx. 1 teaspoon Cream Cheese Filling. Top each muffin with remaining batter.
Bake 20 minutes until golden brown. Immediately remove muffins from the pan.
Notes
Cream Cheese Filling
1 3 oz. package cream cheese filling, softened
1 tablespoon milk
1 tablespoon sugar
Mix all ingredients until smooth.
A Passion for Entertaining http://apassionforentertaining.com/