Recipe #2 – Spartan Oil #EVOOChallenge
Why olive oil? I know we have all heard the benefits of using olive oil in recipes. I did a bit of research and found this interesting article; http://www.oliveoiltimes.com/olive-oil-health-benefits. After you read this article, I think we will all rethink the oils we use when we cook. Take a look, very interesting.
On to my second challenge recipe. Ever thought of replacing butter with olive oil? That is exactly what I did with my muffin recipe, this recipe has always been good with butter, but I must say, delicious when using olive oil. The oil makes these muffins very moist and delicious. I baked these in miniature muffin tins and then flipped them over when I removed them from the pans. I like the look of the flat tops. Top with a dollop of Orange Honey Cream Cheese, it is hard to eat just one!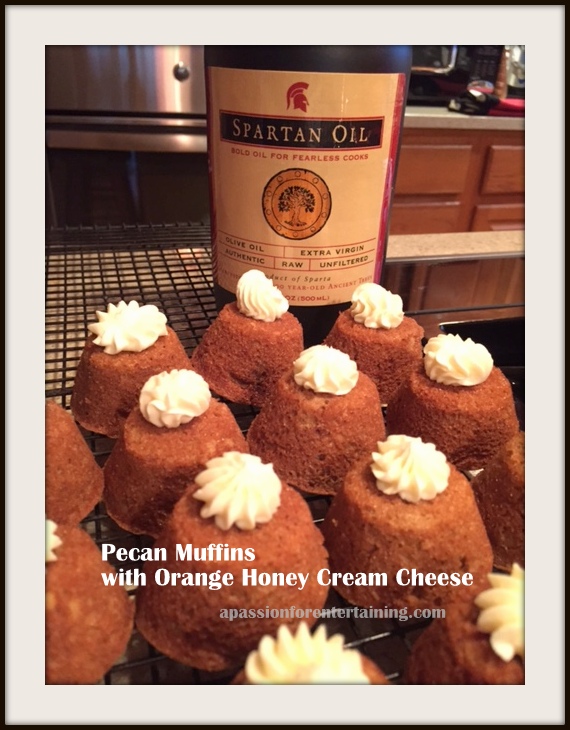 Pecan Muffins with Orange Honey Cream Cheese
2016-01-12 08:29:22
Ingredients
1/3 cup Spartan Olive Oil
1 cup firmly packed dark brown sugar
2 eggs, beaten
1/2 cup flour
1 teaspoon vanilla
1 cup chopped pecans
Instructions
Preheat oven to 350 degrees. Lightly greased 24 mini muffins pans. Combine oil and sugar in a mixing bowl, mix well to combine. Add eggs, flour and vanilla, mix well. Fold in pecans. Fill each muffin pan 3/4 full. Bake for 15 minutes. Cool, serve with Orange Honey Cream Cheese
Notes
Orange Honey Cream Cheese
In a medium bowl combine 8 oz. cream cheese (room temp.) 1 tablespoon of honey and the zest of one orange.
A Passion for Entertaining http://apassionforentertaining.com/