What to do with one pound of shrimp and only thirty minutes? That was my thought the other night when friends called at the last minute to come for dinner and I had one pound of shrimp in the refrigerator. I quickly said "I'll bring the appetizer", the pressure was on. We were leaving in thirty minutes for their house; The following dish I put together with what I had on hand. Let's just say the dish was 'licked clean'. The combination of butter, garlic, shrimp and the crunchy topping was a show-stopper.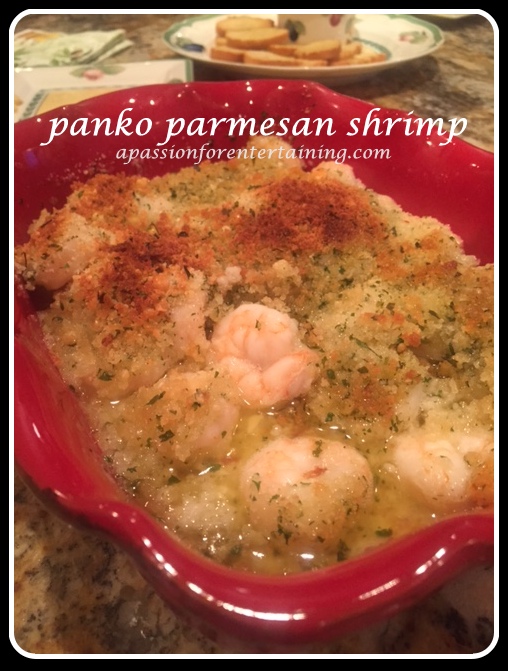 Panko Parmesan Shrimp Appetizer
2015-03-14 15:45:08
Ingredients
1 pound of shrimp, peeled and deveined
3/4 cup butter
1 clove of garlic, minced
1/3 cup white wine
1/4 teaspoon red pepper flakes
1/2 cup panko bread crumbs
1/3 cup grated parmesan
1 tablespoon chopped parsley (fresh or dried)
Instructions
Preheat oven to 350.
Steam shrimp just until pink - do not overcook
Put butter, garlic, wine, and red pepper flakes in a small casserole and put in the oven. Once the butter has melted, stir and add shrimp. Combine panko, parmesan and parsley. Spoon over the top of the shrimp. Bake 12 minutes. Broil until golden brown. Serve hot.
A Passion for Entertaining http://apassionforentertaining.com/