This is the perfect breakfast treat, especially since you can make it the night before and then bake in the morning. I just love recipes that I can prepare in advance. Nothing is better in the morning than the smell of cinnamon flowing through the kitchen. I thought this would be the perfect weekend treat. All you have to do is brew a pot of coffee and breakfast is ready!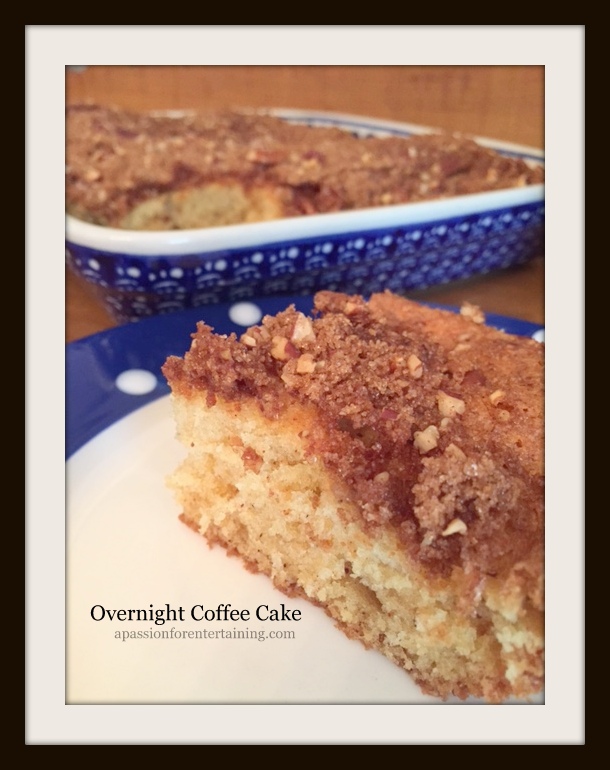 Overnight Coffee Cake
2015-03-18 06:25:25
Every time I serve this, everyone wants the recipe and it is great to do ahead!
Ingredients
3/4 cup butter, softened
1 cup sugar
2 eggs
8 oz. sour cream
2 cups flour
1 teaspoon baking powder
1 teaspoon baking soda
1/2 teaspoon salt
1 teaspoon nutmeg
Topping
3/4 cup brown sugar
1/2 cup chopped pecans
1 teaspoon cinnamon
Instructions
Cream together butter and sugar until light and fluffy. Add eggs and sour cream, mix well. Combine flour, baking powder, baking soda, salt and nutmeg. Fold in dry ingredients into batter and mix well. Pour into greased 9 x 13" pan. Combine brown sugar, pecans, and cinnamon. Sprinkle over the top of the batter. Cover and refrigerated overnight. Bake uncovered 350 for 35 - 40 minutes or until the cake tests done.
A Passion for Entertaining http://apassionforentertaining.com/