These yeast rolls are not your everyday rolls, these are the rolls to bake when you have a special occasion, brunch, or luncheon. They are over the top delicious with the orange filling and orange glaze. If you want a show stopper recipe, Orange Twist Rolls are just what you are looking for. Serve these for breakfast or brunch, it will be hard to eat only one!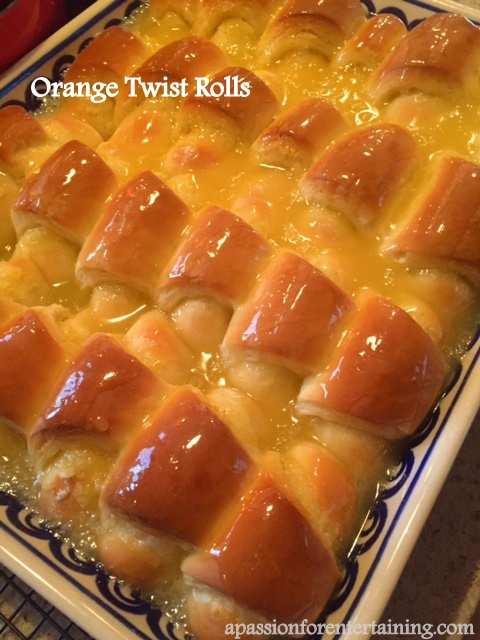 Orange Twist Rolls
2016-02-29 13:48:18
Dough ingredients
1 package active dry yeast
1/4 cup warm water
1/4 cup sugar
1 teaspoon salt
2 eggs
1/2 cup sour cream
6 tablespoons melted butter
3 cups flour
Filling
2 tablespoons melted butter
3/4 cup sugar
2 tablespoons grated orange rind
Glaze
3/4 cup sugar
1/2 cup heavy cream
2 tablespoons orange juice
4 tablespoons butter
Instructions
Dissolve the yeast in the warm water in a small bowl. In the large bowl of electric mixer using the dough hook, combine 1/4 cup sugar, salt, eggs, sour cream, yeast mixture and butter. Add the flour and combine until a soft dough forms. Let dough rise in a warm place for 2 hours. Turn the dough out onto a floured board and knead 15 times. Divide dough in half. Roll each half into a 12-inch circle. Combine the sugar and orange rind in a small bowl. Brush each circle with 1/2 of the melted butter and sprinkle with 1/2 of the sugar mixture. Cut the circle into 12 wedges. Roll up staring with the wide end and place rolls in a greased 9 x 13 baking dish with the points down. Repeat with the other half of dough. Cover rolls and let rise 1 hour.
Preheat oven to 350 degrees. Bake the rolls for 20 - 30 minutes until golden brown. Top with glaze while warm.
Notes
Glaze
Combine the sugar, cream, orange juice, and butter in a saucepan and boil for 3 minutes, stir constantly. Pour over the rolls when removed from the oven. Cool rolls slightly; serve warm or at room temperature.
A Passion for Entertaining http://apassionforentertaining.com/