One of my favorite flavors to serve for dessert is citrus. I think the light sparkling taste of lemon, orange and lime are perfect to wake up your pallet after any meal. They also pair perfectly with a sparkling wine. Orange mousse and champagne – that is worth a toast!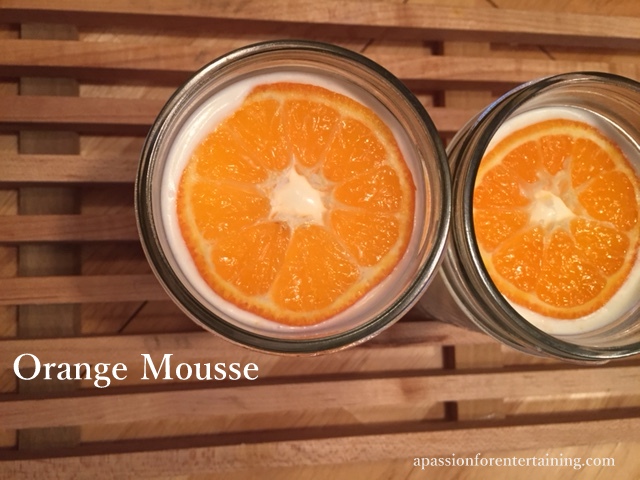 Orange Mousse
2016-02-04 07:57:47
Serves 6
Ingredients
1 tablespoon unflavored gelatin
1/4 cup cold water
3 tablespoon freshly grated orange peel
1 teaspoon freshly grated lemon peel
1/2 cup water
1 1/4 cup fresh orange juice
2 tablespoon fresh lemon juice
1 cup heavy cream, whipped
Toasted almonds for garnish, optional
Fresh blueberries for garnish, optional
Instructions
Stir gelatin into 1/4 cup cold water, set aside for 15 minutes. In a medium saucepan, combine sugar, orange and lemon peel and 1/2 cup water. Bring to a boil and boil one minute. Stir in softened gelatin and stir to dissolve. Refrigerate for 45 minutes. Do not allow gelatin to set completely. It should be the consistency of egg whites. Beat whipped cream until stiff peaks form. Fold whipped cream into orange mixture. Pour into serving dishes, refrigerate until set. Garnish with toasted almonds and blueberries, if desired.
A Passion for Entertaining http://apassionforentertaining.com/