I posted this recipe two year's ago and it has been one of my most viewed recipes. I thought it would be worth a repost today. Just as good today as it was two years ago.
Did you know that tomorrow, June 5th is National Doughnut Day? National Doughnut Day is traditionally celebrated the first Friday of June, which this year falls on June 5. The celebration was first established by the Chicago Salvation Army to honor women who served doughnuts to soldiers during World War I and II. The organization's "doughgirls" once delivered doughnuts to the "doughboys," and in 1938 it was made an official thing. What a great tradition to continue. I know that all of the large doughnut chains are hyping the day and having doughnut specials. Why not make doughnut holes at home? This recipe will have you celebrating National Doughnut Day each year!
Here is one more piece of information worth noting.
The dictionary-approved spelling for the ring-shaped cake made of dough and fried in fat is doughnut. The shortened donut has been around since the late 1800s, but it wasn't popularized until the late 20th century, when the successful American doughnut chain Dunkin' Donuts made it ubiquitous. Today, writers outside the U.S. still favor doughnut by a wide margin. Donut appears about a third of the time in published American writing.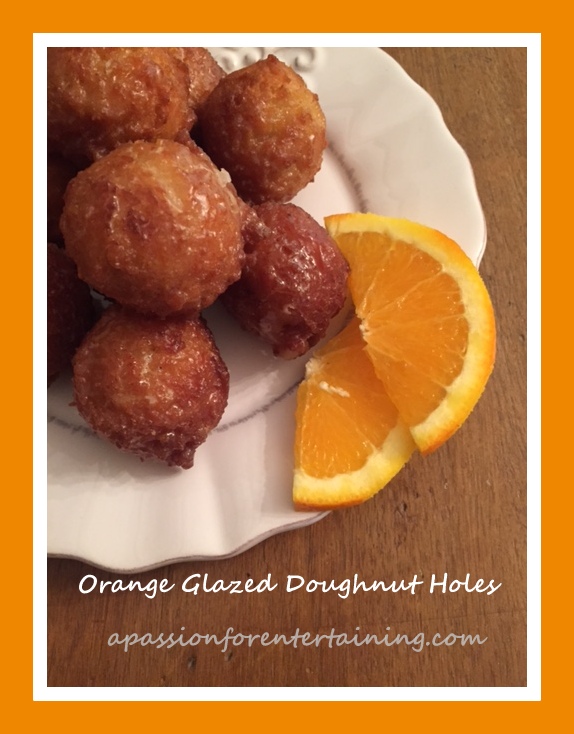 Orange Glazed Doughnut Holes
2015-06-02 13:16:27
Ingredients
1 1/2 cup flour
1/3 cup sugar
2 teaspoons baking powder
1/2 teaspoon salt
1/2 teaspoon nutmeg
1/2 teaspoon cinnamon
1/2 teaspoon vanilla
1 egg
1/2 cup milk
1 tablespoons butter, melted
Canola oil for frying
1 1/2 cups powdered sugar
1 teaspoon grated orange peel
2 - 3 tablespoons freshly squeezed orange juice
Instructions
In a large bowl, combine the flour, sugar, baking powder, salt, nutmeg, cinnamon, and vanilla. In a small bowl, mix together the egg, milk and butter. Add to dry ingredients and mix well.
Preheat oil approx. 2 inches of oil in the bottom of a large sauce pan, heavy skillet or Dutch oven. Heat oil to 375. Carefully drop dough by heaping teaspoons into the oil, I cooked 4 at a time. Cook 2 minutes, turning donut holes. Drain on paper towels, roll in the glaze. Yields 3 dozen.
Notes
Orange glaze - mix together the powdered sugar, orange peel and orange juice. If mixture is too dry, add an additional tablespoon of orange juice.
If you prefer, combine 1 tablespoon of cinnamon and 3/4 cup sugar and roll doughnuts in mixture instead of glazing.
A Passion for Entertaining http://apassionforentertaining.com/