Mussels are one of our favorite dinners. I typically cook a large pot of steaming mussels every Friday night. They are perfect to cook after a busy week and there is nothing better than a pot of angry mussels, crusty bread and a great bottle of wine. This time, I wanted to serve cold mussels as an appetizer. Orange Cucumber Mussels on the Half Shell are so easy to make and a show stopper of an appetizer! Steam the mussels in shallots and wine, remove the mussels from their shells, toss with orange and cucumber relish, load back into the shells and refrigerate until serving. As a quick side note – when shopping for mussels, I always ask at the fish counter for the freshest bag of mussels they have, ask ice to go and always keep the plastic bag open so they can breathe.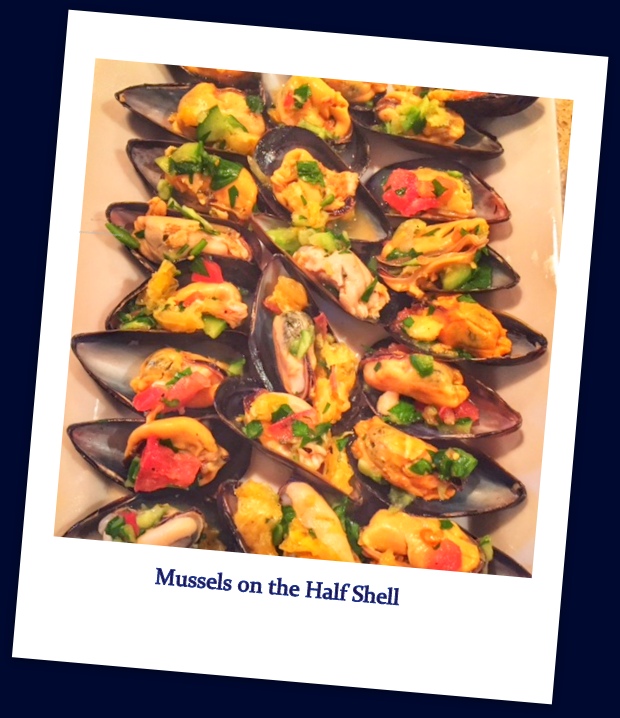 Orange Cucumber Mussels on the Half Shell
Ingredients
1

-2 pound bag

mussels

2

tablespoons

olive oil

1

shallot, minced

1

clove

garlic, minced

1

cup

white wine

1

orange, finely diced, save the juice

1

seedless

cucumber, finely diced

1

tomato, finely diced, seeds removed

1/2

cup

Italian parsley, finely minced

1

tablespoon

white wine vinegar

1/4

teaspoon

kosher salt

1/4

teaspoon

fresh ground black pepper
Instructions
In a dutch oven, heat olive oil over medium heat. Add shallot and garlic, cook 2 minutes stirring frequently. Add white wine and bring mixture to a boil. Add mussels and cook covered for approximately 5 minutes or until the mussels have opened. Stir once or twice while the mussels are cooking. Drain mussels in a colander. Throw away any mussels that did not open. Remove mussels from their shells and place in a medium size mixing bowl. Reserve shells. Toss mussels with the orange, cucumber, tomato, and parsley. Add the white wine vinegar and salt and pepper. Refrigerate. Rinse shells and place on a serving platter. After the mussel mixture is chilled, approximately 2 hours, spoon one mussel into each shell half, top with some of the minced vegetables. Cover and refrigerate until serving.