Recipe #5 – Spartan Olive Oil Challenge #EVOOChallenge
This is a version of my mother's favorite chocolate cake recipe. These can be made quickly with ingredients in your pantry. The addition of the olive oil makes these gems moist with dense chocolate flavor. Oh…I might have forgotten to tell you, you mix them in one bowl – how easy is that? This is the perfect triple chocolate combination, chocolate cake, chocolate chips and chocolate ganache. Just my kind of sweet delight.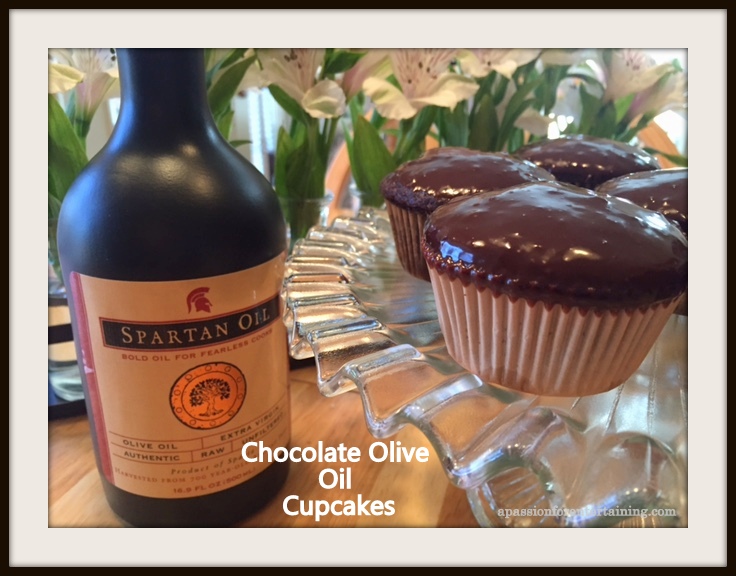 Chocolate Olive Oil Cupcakes
2016-01-18 10:59:43
Ingredients
1 1/2 cups flour
1 cup sugar
3 tablespoons unsweetened cocoa powder
1 teaspoon baking soda
1/2 teaspoon salt
1 teaspoon vanilla
1 teaspoon apple cider vinegar
5 tablespoons olive oil
1 cup water
1/2 cup mini chocolate chips
Instructions
Preheat oven to 350 degrees. Line one twelve count muffin pan with paper liners.
In a medium mixing bowl combine the flour, sugar, cocoa, soda, and salt. Whisk dry ingredients together. Add the vanilla, vinegar, olive oil and water. Whisk until smooth. Fold in the chocolate chips.
Divide batter between the twelve cupcakes.
Bake 350 degrees for 20 minutes.
Remove from oven, cool.
Dip in ganache.
Notes
Chocolate Ganache
6 oz. semi sweet chocolate, chopped into small pieces or you can use semi sweet chocolate chips
1/2 cup heavy cream
Heat cream until small bubbles appear around the edge, remove from heat. Add chocolate and stir until smooth. Dip cooled cupcakes in ganache.
A Passion for Entertaining http://apassionforentertaining.com/