I purchased too many nectarines and all of them became ripe at the same time. I also had a large quantity of fresh basil waiting to be used. I contemplated what to do with these two ingredients and my first thought was salsa. But, I really didn't have any other ingredients on hand for salsa. I was planning on making a peach cobbler in the next few weeks, but after looking at my bounty, Nectarine Cobbler it was. At the spur of the moment, I also thought I would toss in the basil and I am sure glad I did. What a wonderful combination, one you might not think of, but it is delicious. You just never know what happens when you start experimenting in the kitchen.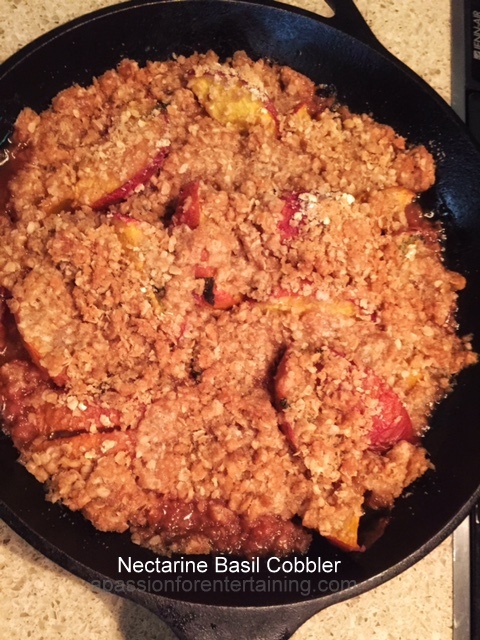 Nectarine Basil Cobbler
Ingredients
6

nectarines, sliced

2

tablespoons

fresh basil, minced

2

tablespoons

Cointreau (optional)

1/2

cup

quick cooking oats

1/2

cup

packed brown sugar

1/4

cup

flour

1/2

teaspoon

ground cinnamon

1/4

cup

butter
Instructions
Preheat oven to 350 degrees. In a 10 inch ovenproof skillet or 8 inch square baking dish, layer sliced nectarines. Top nectarines with minced basil and sprinkle the Cointreau over the nectarines. Combine oats, brown sugar, cinnamon and flour in a mixing bowl. Dice butter into small pieces and cut into the flour mixture with either two forks or a pastry blender. Combine until butter and flour mixture is coarse crumbs. Sprinkle the crumb topping evenly over the nectarines. Bake 40 - 45 minutes. Serves 6.