Looking for a side dish that is perfect to serve on Cinco de Mayo next week? This vegetable dish is perfect with all of your Mexican favorites. You will be hoping to have leftovers, terrific to add to eggs, omelets, and even great tossed with pasta. Now, time to find your favorite margarita recipe,,,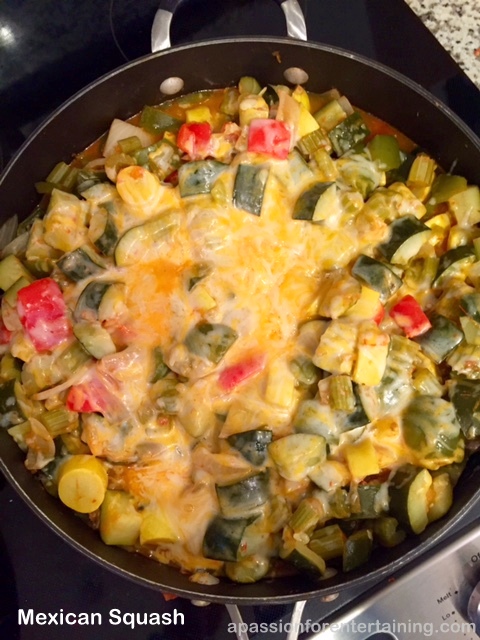 Mexican Squash
2016-04-25 07:11:12
Serves 8
Ingredients
3 tablespoons olive oil
1 clove garlic, minced
4 medium zucchini, cut in 1 inch pieces
3 medium yellow squash, cut in 1 inch pieces
1 green pepper, cut in 1 inch pieces
1 red pepper, cut in 1 inch pieces
1 sweet yellow onion, minced
1 cup chopped celery
1 1/2 cups picante sauce
Salt and pepper, to taste
1 cup shredded cheese - Monterey jack and cheddar
Instructions
In a large skillet over medium high heat, heat olive oil. Add vegetables. Saute for 3 - 5 minutes, stirring frequently. Add picante sauce and salt and pepper, stir. Reduce heat to medium low, cover and cook until all of the vegetables are tender, 5 - 8 minutes. Top with cheese and cover until the cheese is just melted. Serve.
A Passion for Entertaining http://apassionforentertaining.com/