Memorial Day weekend is the kick-off to summer. Time for picnics, BBQ's, and outdoor fun. When planning your outing and food menu, these green beans are sure to be a hit. Served cold or at room temperature, you can make them ahead and they are ready when you are. Pack in your cooler and you are set. These beans are absolutely addicting. Cold, crunchy and with a fantastic marinade, this is the perfect picnic fare for Memorial Day weekend.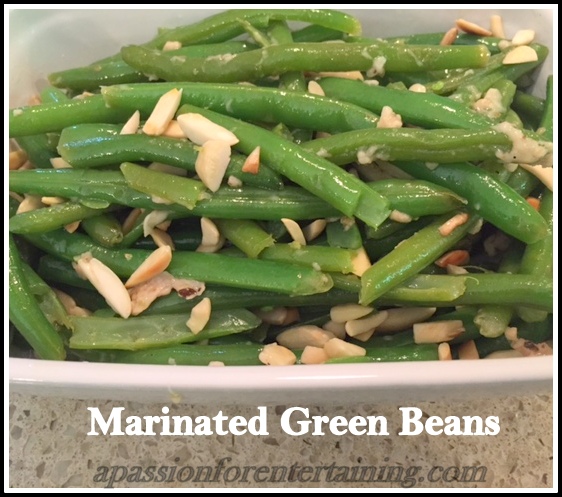 Marinated Green Beans
2015-05-15 12:47:07
Ingredients
1 - 2 pounds green beans, snip off ends
1/4 cup olive oil
1/4 cup red wine vinegar
1 clove garlic
1/2 cup grated parmesan cheese
1/2 teaspoon oregano
Salt and pepper, to taste
1/2 cup toasted slivered almonds, toasted
Instructions
Steam green beans for 4 - 5 minutes. While beans are steaming, heat olive oil over medium heat in a small sauce pan. Add garlic and cook 1 - 2 minutes, do not brown. Reduce heat and add oregano and vinegar. Cook 1 minutes, remove from heat. Drain green beans, toss with olive oil mixture. Cool slightly, toss with parmesan and almonds. Serve warm or refrigerate and serve chilled.
A Passion for Entertaining http://apassionforentertaining.com/