I am sure my schedule recently mirrors your schedule. Getting back to a routine after the holidays, packing away all of the holiday decor, and trying to stay on a normal healthy eating schedule all seems to be a worthy goal. Well, after a long week working and avoiding the grocery store, it was time to open the freezer and see what I could find and what I could make for dinner in under an hour. First thing I did was find a bag one-half full of shrimp leftover from the holidays. I tossed the frozen uncooked shrimp in a colander under cold running water while I put a few ingredients together. I had made a recipe similar to one that required threading the shrimp on skewers, well I decided I did not have the time or the energy to thread shrimp on skewers. Out came my small cast iron skillet. In a small bowl I mixed the topping ingredients and mixed in the shrimp. I let them marinate for approx. 20 minutes, then poured the mixture into the skillet, popped it under the broiler and our came the most delicious shrimp. A great way to start the new year in my kitchen.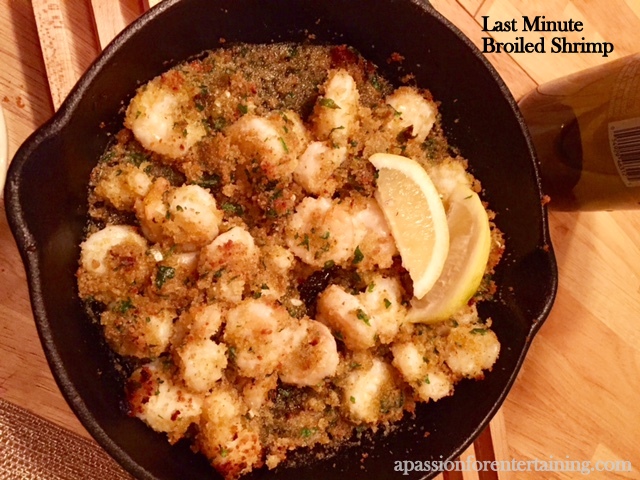 Last Minute Broiled Shrimp
2017-01-10 04:53:29
Ingredients
1 lb. uncooked medium shrimp, peeled and deveined
6 tablespoons olive oil
2/3 cup Italian bread crumbs
1 clove garlic, minced
1 tablespoon Italian parsley, minced
3/4 teaspoon salt
ground black pepper
lemon wedges
Instructions
Mix together the olive oil, bread crumbs, garlic, parsley, salt and pepper in a medium bowl. Add the shrimp. Combine and let the shrimp marinade for 20 minutes at room temperature. Pour into entire contents of bowl into a cast iron skillet. Preheat broiler to high. Cook the shrimp 3 minutes, stir, cook for an additional 2-3 minutes or until the shrimp are cooked through. Serve hot with lemon wedges. Serves 3 - 4.
A Passion for Entertaining http://apassionforentertaining.com/