We recently visited a Greek restaurant when we were in Chapel Hill, NC. I automatically thought of the Greek olive oil I purchased from Spartan Oil a few weeks ago. I decided to create a tart that highlighted the oil with kalamata olives, feta cheese, caramelized onions and pine nuts. The results were wonderful; the bold flavor of the oil both in the crust and in the topping certainly made me feel I was back in that Greek restaurant.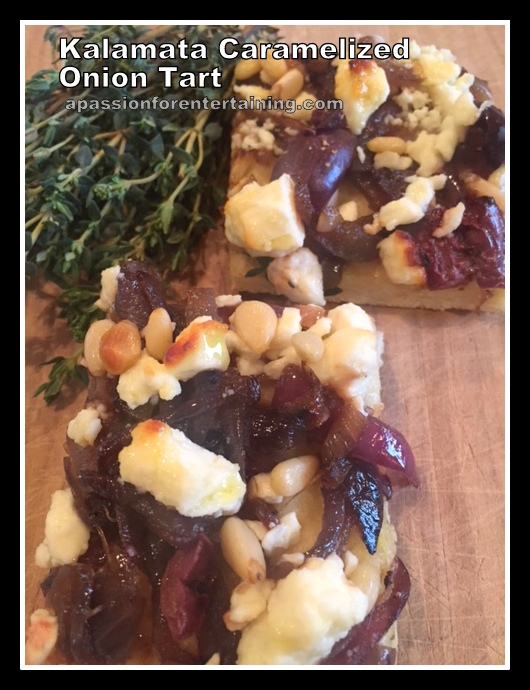 Kalamata Caramelized Onion Tart
2015-03-30 16:13:40
Ingredients
Crust
2 cups flour
2 teaspoons baking powder
1/2 teaspoon kosher salt
3/4 cup milk
1/4 cup Greek olive oil
Topping
2 red onions, thinly sliced
3 tablespoons Greek olive oil
1 teaspoon fresh thyme
1 teaspoon sugar
1/2 cup feta cheese, crumbled
1/2 cup Klamath olives, pitted and chopped
1/4 cup pine nuts
Additional olive oil drizzling over tart
Instructions
Preheat oven to 425
Heat a heavy skillet over medium high heat, add 3 tablespoons olive oil. Add onions and cook stirring frequently over medium heat for 10 minutes. Add thyme leaves, salt and pepper, and sugar. Reduce heat to medium low and cook onions, stirring occasionally, an additional 20 minutes until brown and caramelized.
Prepare crust - in a large bowl combine flour, baking powder and salt. Stir in milk and olive oil and mix until combined. Turn out onto a floured board and kneed until combined and smooth. Roll or press until dough is approx. 1/4 inch thin on a lightly greased baking sheet.
Top with onions, olives, pine nuts and cheese. Drizzle lightly with additional oil.
Bake for approx. 20 minutes until crust is golden brown.
A Passion for Entertaining http://apassionforentertaining.com/