A few weeks ago, a good friend of mine made these amazing jalapeño poppers. I started thinking what else could I create with this great taste sensation. I immediately thought of my favorite potato casserole recipe and decided to turn the heat up on this recipe. I switched from using cheddar cheese to smoked gouda, diced the jalapeños and cooked them with red onions until the peppers were slightly charred and added them to the mixture. This gave the peppers the smoky taste that you would get when roasting the poppers. This re-creation of the my potato casserole recipe turned out terrific. To add more spice to this recipe, you can certainly add additional peppers or add a few dashes of your favorite hot sauce. This recipe is very easy to customize and you certainly can add your favorite add-ins.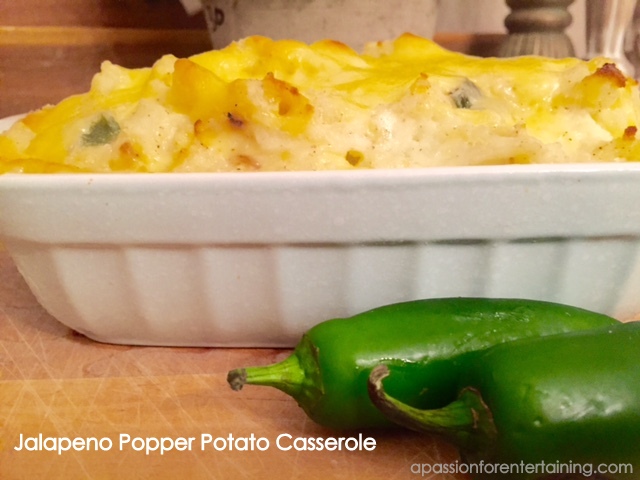 Jalapeno Popper Potato Casserole
2016-05-03 12:22:46
Serves 6
Ingredients
3 large baking potatoes, baked
1/2 pound smoked gouda cheese, grated
4 jalapeño peppers, seeds removed, diced
1/4 cup red onion, diced
1/2 cup sour cream
1/3 cup cream cheese
Salt and pepper, to taste
4 tablespoons butter, divided
Instructions
Bake potatoes (rinse clean, prick skin and roast 375 degrees for 1 1/4 hours), remove from oven, cut in half and let cool slightly. Scoop insides of potatoes into a medium mixing bowl. Add cream cheese, sour cream, 2 tablespoons butter and salt and pepper. In a heavy small skillet melt the remaining two tablespoons of butter, add jalapeños and red pepper. Cook over medium heat until the peppers begin to slightly char, remove from heat and add to potato mixture. Stir well. Fold in grated cheese (reserved about 3 tablespoons for the top of the casserole). Spoon into a greased baking dish. Top with remaining cheese. Bake 350 degrees until hot and bubbly, approx.. 20 - 30 minutes.
Notes
You could also make these twice baked potatoes - fill the potato shells with the mixture and place on a baking sheet. Bake 350 degrees until hot and bubbly, approximately 20 minutes.
A Passion for Entertaining http://apassionforentertaining.com/