Fall days, cool nights – it's soup time. I always love making a large batch of soup and freezing leftover soup for those busy days when I just don't want to cook or time is running short. I always cook pasta for soups separately in additional broth. Then I add the pasta to the soup just prior to serving. I think the soup is best with fresh cooked pasta added. When you refrigerate or freeze soup with the pasta added, the pasta absorbs additional liquid and the pasta looses it al dente texture. This soup would also be great with rice or tortellini added.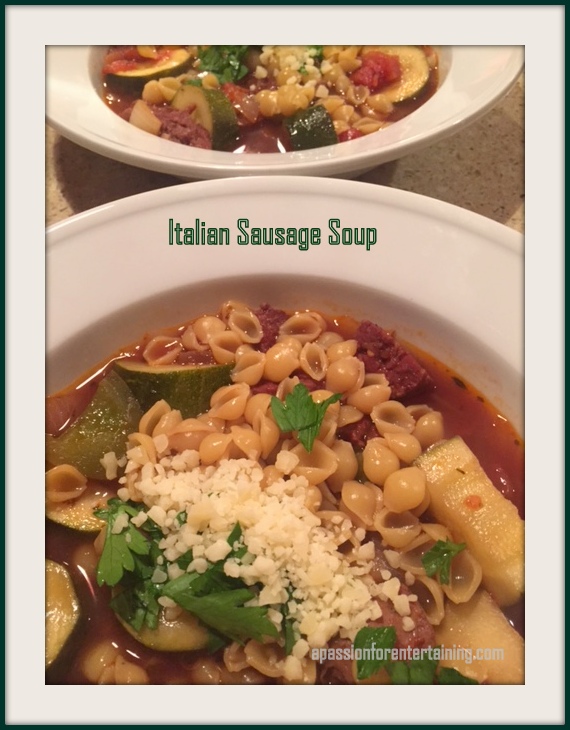 Italian Sausage Soup
2015-10-15 06:13:06
Ingredients
1 - 2 # Italian sausage links (mild or hot)
olive oil
1 yellow onion, minced
3 cloves garlic, minced
2 teaspoons dried Italian seasoning
1 28 oz. can chopped tomatoes
1 1/2 cup red wine
5 cups beef broth
2 medium zucchini, cut into 1/2 inch pieces
1 green pepper, diced
cooked pasta or rice
salt and pepper, to taste
Freshly grated parmesan cheese
Chopped Italian parsley
Instructions
In a large soup pot, add Italian sausage links (prick casings prior to adding) and cover with water. Bring to a boil and simmer for 20 minutes. Remove sausages and cool. Discard cooking water. Slice sausage links into slices and sauté in soup pot in a drizzle of olive oil. Once brown, remove sausage, set aside. Add additional olive oil if needed and cook onion and garlic until onion is transparent. Add red wine, tomatoes, beef broth, Italian seasoning and sausage pieces. Simmer 30 minutes covered. Add vegetables and cook an additional 30 minutes. Cook pasta in additional broth or add to soup mixture and cook until tender.
Serve with grated parmesan and garnish with Italian parsley.
A Passion for Entertaining http://apassionforentertaining.com/