Every once in awhile you run across someplace that you will always remember. Scrambled is just one of those types of restaurants that I will remember and hope to return to one day. As we were traveling through the south on our return trip home from the Masters this spring, we stopped into Scrambled for breakfast. After numerous searches on the internet, I decided that Scrambled looked like just the type of place to try and boy we were not disappointed. You know the minute you arrive on a weekday morning and you have to wait 30 – 35 minutes, you have found a great place that the locals frequent. We were greeted with the news of a wait, but also a waiting area and a delicious cup of coffee. Time flew during our wait since I always seem to strike up a conversation and learn more about the restaurant and the local area. I must admit, I told the hostess that I was a food blogger. Once my husband and I were seated, we checked out their delicious menu and ordered a few of our favorites. It was shortly after this that we meet Sarah Keith who owns Scrambled with her husband and chef, Chris Blackburn; she graciously offered to have us try a few of the menu highlights. We had such fun, talking with our neighboring table mates and discussing the wonderful menu at Scrambled. I tasted my way through the menu; just sitting here writing this post, I wish I had their fried green tomato eggs benedict sitting here next to me, or their meatloaf benedict, or their breakfast flatbread, or their pancake, or their…….. I think you get the picture. Everything we tried was sensational. Oh, did I mention their biscuits and homemade jams?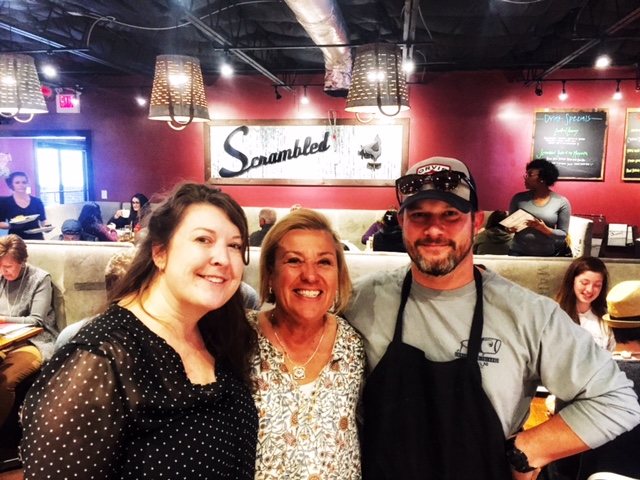 Here I am with Sarah and Chris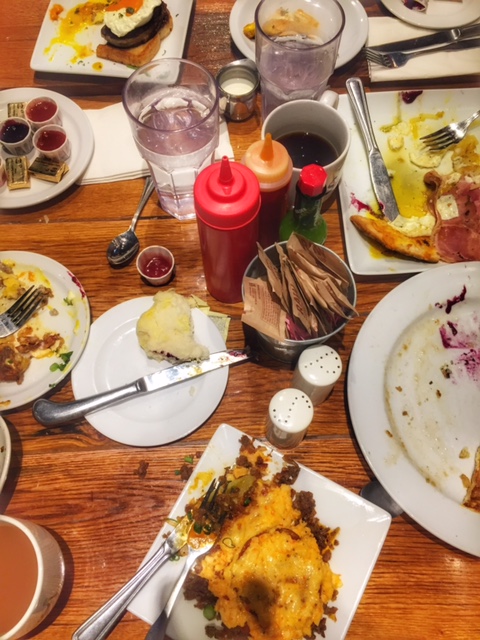 Everything was just sensational! I will head back to Greensboro just to go to Scrambled.