When I attended ZooFari recently at the National Zoo in Washington, DC, I came across a booth serving the most wonderful pate's and foie gras. I have mentioned before that ZooFari (a fundraiser for the National Zoo) is an absolute foodie paradise with booths from some of the finest restaurants and food purveyors on the East Coast. The Les Trois Petite Cochons -Three Little Pigs booth was definitely calling my name when I saw their assortment of pates at their booth. Over the years, when I attend food events, I have come to realize that not everyone is schooled in the area of food and various types of food. I got a quiet giggle from this encounter: The two gentlemen in line behind me as I was waiting to try Tree Little Pig's foie gras, were discussing with each other that they were interested in trying the fudge! I thought – really gentlemen – this it not fudge! this is foie gras! However, this story has come to my mind many times when I talk about food, food trends, and types of food. I realize that not everyone has been exposed to culinary delicacies and as a food writer, I am always mindful to educate my readers and hope that everyone expands their palates and food adventures.
I typically ask lots of questions when trying new things and many times I hand out my business card when discussing food or recipes. Quitterie Peyran, French Marketing Associate for Les Trois Petite Cochons-Three Little Pigs reached out to me and asked if I would be interested in trying a few of their organic pates and foie gras. As a side note: I receive many requests to review products and events however, my Interesting Finds are items that I have found and think my readers would be interested in. I am very selective and I am not a marketing tool to feature just any product You can be assured if something is an Interesting Find, I personally found the item and love it! Les Trois Petite Cochons products are definitely an Interesting Find. They generously sent me an assortment of their products and they were all outstanding. One of the great things about their products is they are not something I would make at home but I love to serve them. All were exceptional. If you are a fan of foie gras and pates (or ready to expand your food adventures), check out their website.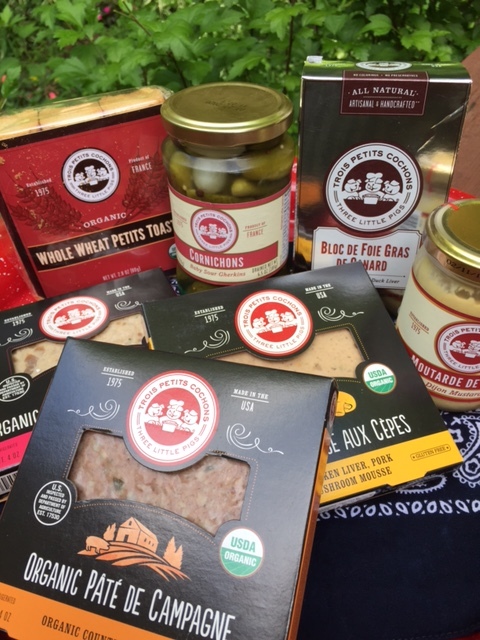 Les Trois Petits Cochons began in 1975 as a small charcuterie in Greenwich Village, New York City. Today it continues the tradition of handcrafting high quality, all natural pâté and charcuterie, offering a complete line of artisanal pâtés, mousses, terrines, sausages, smoked meats and other French specialties.