Those of you that follow my blog regularly know that I bake almost everything from scratch, However, even I love to find great small batch companies that have mastered certain products. When I came across the crackers from the Georgia Sourdough Co, I knew I wanted to share these as an Interesting Find. Each batch is hand rolled and cut from sourdough, baked and packaged. I have tried the Sea Salt and Cheese crackers and both are terrific.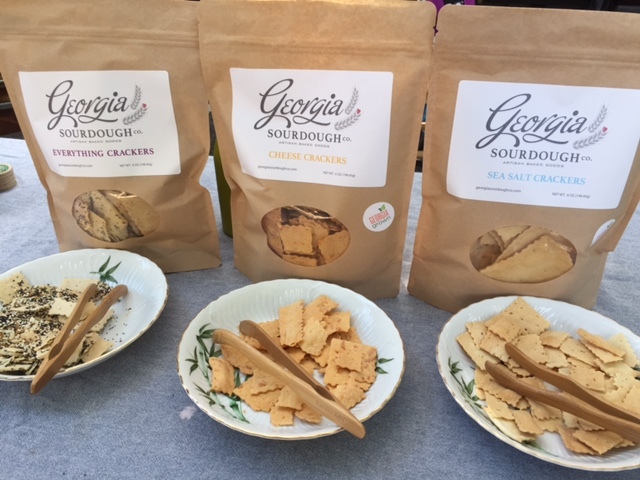 When I inquired about the product, Tracy Gribbon sent me a quick note about how she got started in the business. Below is a bit of our conversation. As many have said before, you just never know what happens when you follow your passion – read below about how she got started in the cracker business.
I lived in NYC for 8 years and was a beverage director. So I filled my days tasting wines and writing lists. And due to a healthy R&D budget, my city and my tiny kitchen apartment- I spent most evenings out to dinner. I decided to move back to Atlanta in 2013 and moved into a house- it was 4x the size of my apartment for 1/2 the price. And it has an actual size kitchen. I took a few months to settle in and not work and I found myself baking a lot. On some prodding from my uncle- I made a sourdough starter. Just the old flour and water on the counter until it populated. I was convinced that I would bake my own fresh bread and life would be glorious! Only hiccup to that is it took me 18 months to successfully make a loaf of bread that was not a brick. So during that time I was experimenting with all sorts of sourdough things. I made chocolate chip cookies, coffee cake, pizza dough, biscuits, pie crust, etc. And I was making the Sea Salt crackers repeatedly. And i would just give them away to friends and family.
I worked at a couple different restaurants for friends. But the jobs were different down here. And most required that I work at night and managing the floor- which I was not a fan of. I was part of a CSA with Greg Hutchins of Heritage Farms- and he had a little online marketplace where he sold his products and other local vendors. I brought him some crackers one day to see if he thought they could sell. His response was "watch out Nabisco! These are fabulous". And so it began. And once we started the farmer's markets stores started approaching us to sell the crackers in their stores. And we keep growing and we keep learning more and more about the healthful effects of sourdough. It's so cool and I feel #blessed to be on this path. Life is pretty cool!
What a fantastic story and I will tell you fantastic crackers, check out her website – http://www.georgiasourdoughco.com/
And remember…..always follow your passion, you just never know what will happen!
(When I followed my passion and started writing this blog for family and friends, I never thought in a million years that my blog would become a nationally recognized food blog and featured in Southern Living as one of their 2017 Favorite Food Blogs)