I wanted to make a lamb stew and just kept adding ingredients to a recipe from my recipe box. Make this on a day when you have time at home and can enjoy the wonderful aroma. Great for a day home watching football. With the small amount of leftovers I had, I made empanadas (look for my post next week on how to make easy empanadas!). It was great to get two totally different meals out of this one simple dish.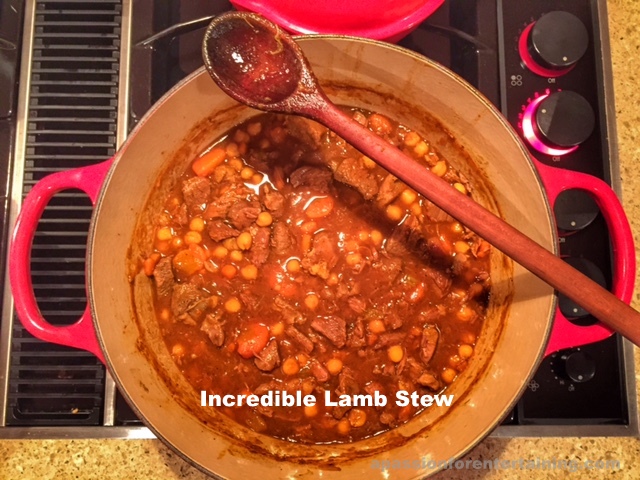 Incredible Lamb Stew
Ingredients
2 1/2

pounds

cubed lamb

1

onion, minced

2

carrots, diced

1

celery stalk, diced

3

tablespoons

olive oil

1

tablespoon

turmeric

2

teaspoons

black pepper

1/2 -1

teaspoon

red pepper flakes, amount depends on hot much heat you want

1

teaspoon

salt

4

cups

chicken stock

4

tablespoons

tomato paste

1

cup

chickpeas

1/2

lime, juiced

1

tablespoon

apple cider vinegar

1

tablespoon

brown sugar
Instructions
In a dutch oven, heat oil, add onion, carrot and celery. Cook over medium heat for 8 - 10 minutes or until onion is transparent. Remove mixture, add lamb cubes and brown on all sides. Return onion mixture to the pan. Combine turmeric, salt, pepper and red pepper flakes. Sprinkle over meat and vegetables, toss to combine. Add chicken broth, bring to a boil. Reduce heat to medium low and cook covered for 1 hour. After one hour, add chickpeas and cook uncovered for an addition 1 1/2 hours, stir occasionally. Add tomato paste, lime juice, vinegar and brown sugar. Cook until thickened approx. 30 - 40 minutes. Stir occasionally. Serve with rice.