We recently ate at a Lebanese restaurant in Burke, VA, Lebanese Bistro. It is a gem tucked away in a strip shopping center. Roland and Maria, the owners, invited us for an unbelievable dinner. It was so fun, I never saw their menu since they ordered all of their specialties for us to try. Every bite from every dish was just great. I must admit I ate myself into a "food coma" you know what that is – when everything is so good you just cannot resist a bite. Maria graciously shared her Hummus recipe with me after I mentioned how delicious their hummus was. One note, she never uses canned chickpeas. This was not new to me since I have made other recipes with dried chickpeas, but you might not be familiar with cooking with dried chickpeas. Similar to other dried beans that you cook, you soak them overnight and then simmer them until done. I think this step is the key to her wonderful hummus.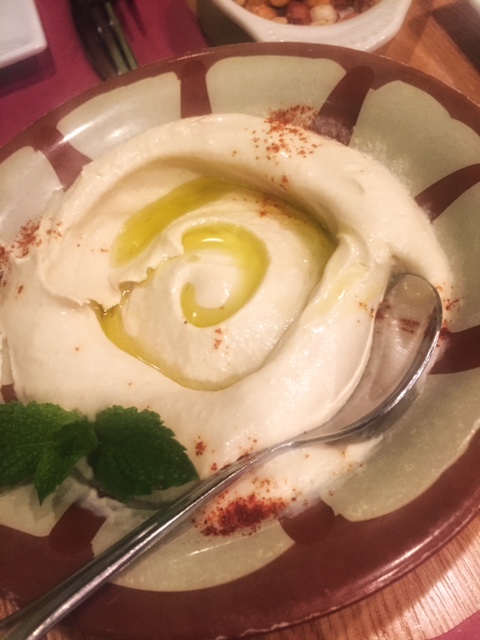 Photo of the hummus served at the Lebanese Bistro
Hummus- Lebanese Bistro
Ingredients
1 1/2

cups

cooked chickpeas

1/4

cup

fresh lemon juice

1/2

cup

tahini sauce

1

large

garlic clove

1/4

cup

olive oil

1

teaspoon

salt
Instructions
Process all ingredients in a food processor - Voila - exceptional hummus thanks to my friend Maria and the Lebanese Bistro, Burke, VA.




To cook chickpeas - cover dried chickpeas with water to cover plus a few inches. Cover and let sit overnight. Drain and rinse. Place in a saucepan and cover with water, plus a few inches, bring to a boil. Reduce heat, cover and simmer 1 1/2 - 2 hours until soft.
Below are a few photos I took during dinner…