We recently had lunch at a wonderful new French restaurant in Georgetown in Washington, DC. On the menu they had an heirloom tomato salad with burrata. If you not not familiar with burrata cheese, it is a fresh Italian cheese made from mozzarella and cream. The outer shell is solid mozzarella, while the inside has a velvety creamy texture . Therefore, when you cut into the cheese, the inside oozes out and is absolutely delicious. We enjoyed the salad so much I said this is something I will definitely make. Fast forward a few weeks and we are visiting Georgia during peak peach season. My daughter came up the great idea of adding peaches to this recipe – Heirloom Tomato, Peach and Burrata Salad. This combination is unique and absolutely delicious, not to mention the beautiful presentation. I served this with grilled lamb chops and roasted potatoes, a wonderful summer menu.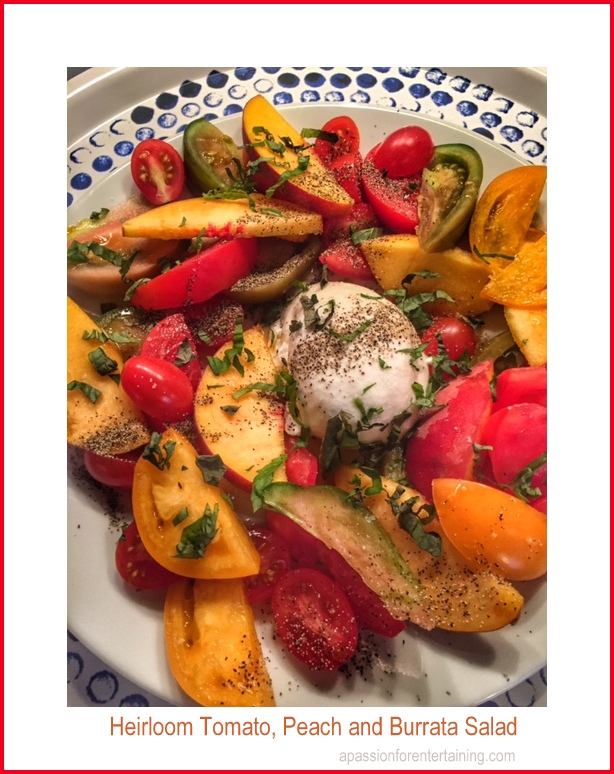 Heirloom Tomato, Peach and Burrata Salad
Ingredients
4

Heirloom tomatoes, varied colors

1

large ripe peach

1

ball Burrata cheese

fresh basil, minced

extra virgin olive oil

salt and pepper
Instructions
Thinly slice the tomatoes and peach. Spread on serving dish. Place cheese in the center. Drizzle with olive oil, top with basil, salt and pepper. Serve at room temperature.