After a beautiful weekend exploring the Virginia countryside, I came home and decided it was time to pull out my mom's recipe box and find a fall recipe. This bread features fall's best – pumpkin, walnuts, chocolate chips and topped with a spiced glaze. I have to add, the aroma in your kitchen while it is baking is sensational. It embraces the best of fall, crisp weather, turning leaves, apples, pumpkins and fall spices – what more can I say – I just love the change of seasons!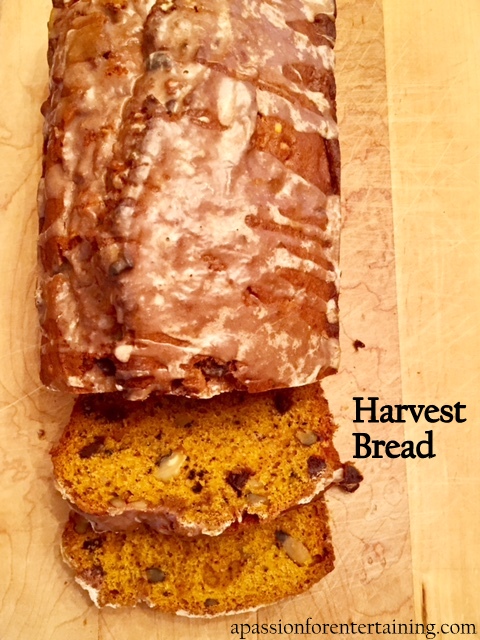 Harvest Bread
2016-10-10 05:44:17
Ingredients
1/2 cup butter, softened
1 cup sugar
2 large eggs
1 cup canned pumpkin puree
1 3/4 cup flour
1 teaspoon baking soda
1/2 teaspoon salt
1 teaspoon ground cinnamon
1/2 teaspoon ground cloves
1/4 teaspoon ground ginger
3/4 cup semi-sweet chocolate chips
3/4 cup chopped walnuts
Spice Glaze
1/2 cup powdered sugar
1/2 teaspoon ground cinnamon
1/8 teaspoon ground nutmeg
1 - 2 tablespoons milk
Instructions
Preheat oven to 375 degrees. Grease one 9 x 5 inch loaf pan.
Cream the butter and sugar until light and fluffy. Add the eggs, one at a time, beating well after each addition. Add the pumpkin and mix well. Combine the dry ingredients and stir into the creamed mixture. Fold in the chocolate chips and walnuts. Pour the batter into the loaf pan. Bake for 70 minutes or until a wooden pick inserted comes out clean. Cool 5 minutes in the pan, remove from pan and top with glaze.
Notes
Spice Glaze
Combine powdered sugar, cinnamon and nutmeg, stir in milk. Spread over warm loaf.
A Passion for Entertaining http://apassionforentertaining.com/