We have a favorite Lebanese cafe near our home where we love to stop to pick up great Lebanese dishes. One of our favorites are Sambousek's; small pastries filled with seasoned beef and spices and then fried. We always comment on how delicious the meat filling is with spices including cinnamon. After seeing all of the interesting hamburger varieties at the meat counters, I decided I wanted to recreate our favorite Lebanese flavors in a burger. After a bit of experimenting, I think I have the perfect combination of flavors. I served these with warm pita bread, assorted greens, fresh sliced tomatoes, and a cucumber yogurt dressing. Let's just say the flavors danced in our mouths!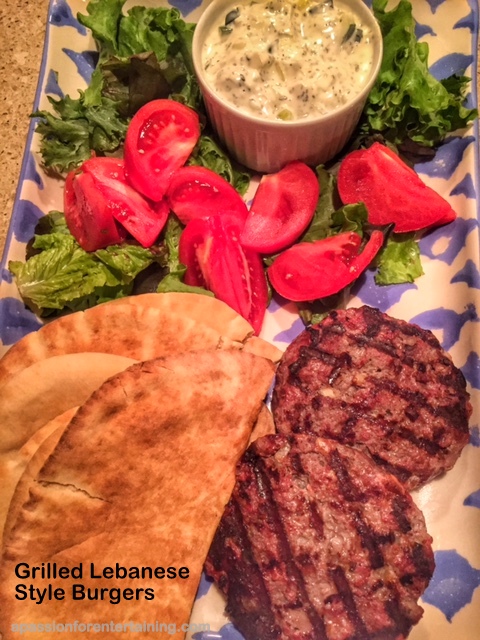 Grilled Lebanese Style Burgers
Ingredients
1 1/2

pound

ground beef

2

cloves

garlic, minced

1/2

cup

onion, minced

1

egg

2

tablespoons

pine nuts

1/4

teaspoon

ground cinnamon

1/2

teaspoon

allspice

1/4

teaspoon

cayenne pepper

1/2

lemon, juiced

salt and pepper
Instructions
Combine egg, onion, garlic, pine nuts, lemon juice, salt, pepper and spices in a medium bowl. Stir well to combine. Crumble in ground beef and combine all ingredients together until all is evenly incorporated. Form into 4 patties. Grill over medium heat (350-400 degrees) 12 - 15 minutes on the first side, flip and grill an additional 8-10 minutes or until the internal temperature reaches 165 degrees.

Serve with desired condiments - pita bread, hummus, cucumber yogurt dressing, lettuce, and/or tomatoes.