One of our favorite neighborhood Mexican restaurants serves a wonderful grilled steak with a cheese sauce along with a cheese enchilada and beans. It is so good, that we order it every time we go to that restaurant. I had a flank steak in the freezer and decided I wanted to try my hand at this delicious entree. I first combined lime juice, orange juice, garlic, diced jalapeno and a few other ingredients to marinate the steak. I then made a basic cheese sauce and spiced it up with pepper jack cheese. Served along side corn tortillas, tomato wedges, and avocados you will have a most spectacular presentation. The cheese sauce is so good you will want to have plenty at the table to serve with the vegetables, tortillas and steak.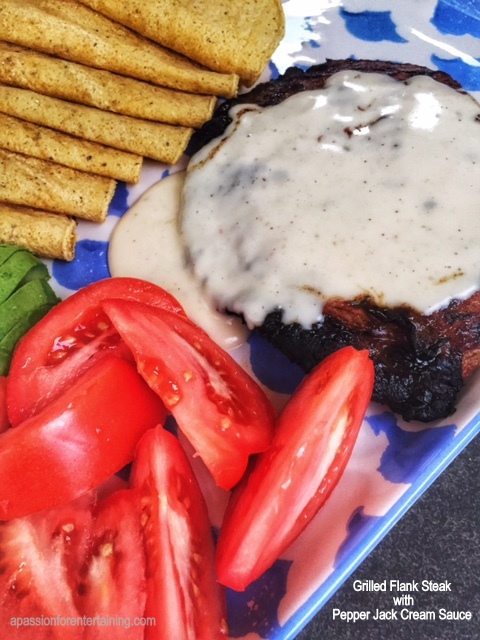 Jalapeno Marinated Flank Steak
Ingredients
2

limes,

juiced

2

cloves

garlic,

minced

1/2

cup

orange juice

1/4

cup

olive oil

1/2

cup

cilantro,

minced

1/2

teaspoon

salt

1/2

teaspoon

pepper

1

tablespoon

white vinegar
Instructions
Combine all of the ingredients, pour over flank steak, refrigerate and marinate 2 - 24 hours.
Pepper Jack Cream Sauce
Ingredients
2

tablespoons

butter

2

tablespoons

flour

1 1/4

cup

milk

1/2

teaspoon

salt

fresh ground black pepper,

to taste

1/4

teaspoon

garlic powder

1/4

teaspoon

cumin

1/2

teaspoon

chili seasoning

4

ounces

pepper jack cheese

grated
Instructions
In a medium saucepan over medium low heat, melt the butter. Add the flour and stir until bubbly and all of the flour is incorporated. Slowly stir in the milk. Increase heat to medium-high and whisk constantly until bubbly and thick. Add seasonings. Continue stirring. Remove from heat and add the cheese, stir until melted. (If you made the sauce in advance and your steak is not finished on the grill, and your cheese sauce thickens - add a bit more milk to the cheese sauce and stir over low heat)