I was headed out for a very busy day last week and wanted to prepare dinner prior to leaving the house. I had fresh green beans and decided to whip up a cold green bean salad. With what was in my pantry and refrigerator, I assembled the following salad. It was just great with the grilled meat I served. Just proves how easy it is to serve fresh vegetables and if you happen to have any leftovers, they are perfect for lunch the next day!
Ever wonder about the history behind balsamic vinegar? Check-out this website; very interesting.
http://www.seriouseats.com/2014/05/everything-you-need-to-know-guide-to-balsamic-vinegar.html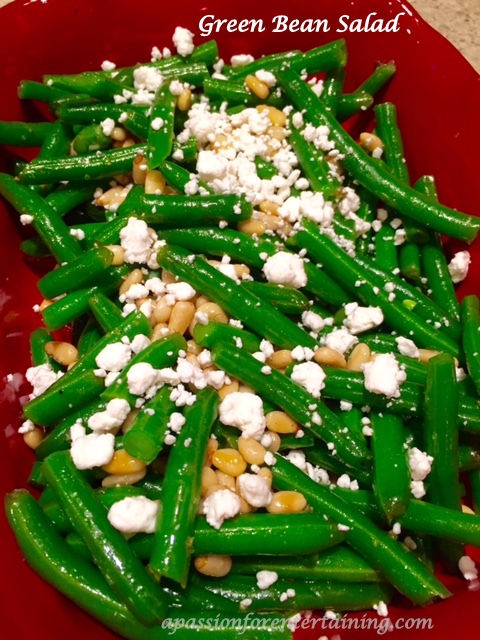 Green Bean Salad
2016-06-08 08:48:28
Serves 4
Ingredients
12 oz. fresh green beans
1/3 cup pine nuts, toasted
1/2 cup goat cheese, crumbled
2 tablespoons olive oil
drizzle of balsamic vinegar
salt and pepper, to taste
Instructions
Blanch green beans in boiling water for 2 minutes, immediately drain and then shock in ice cold water. Drain. Toss green beans with olive oil and salt and pepper. Add pine nuts. Drizzle with balsamic vinegar. Top with crumbled goat cheese. Refrigerate until serving. Drizzle with additional balsamic vinegar when serving, if desired.
A Passion for Entertaining http://apassionforentertaining.com/