Have you ever heard of goat cheese mousse?   I was one that had never heard of it or tasted it until I visited the farmers' market in Durham, NC.  While shopping this lovely market,  I purchased a jar of goat cheese mousse topped with blueberry jam.  I wasn't sure what it was, but with the reaction of shoppers all purchasing jars of Goat Cheese Mousse, I knew it had to be something good.  There was only one label on the jar that said Goat Cheese Mousse, no list of ingredients.  After a bit of research and experimentation, I think I have come up with the easiest appetizer recipe you can make.  I like to top the mousse with hot pepper jelly but you can be creative and top it with any of your preferred jams or chutneys.  Perfect on crackers, toast or bagels.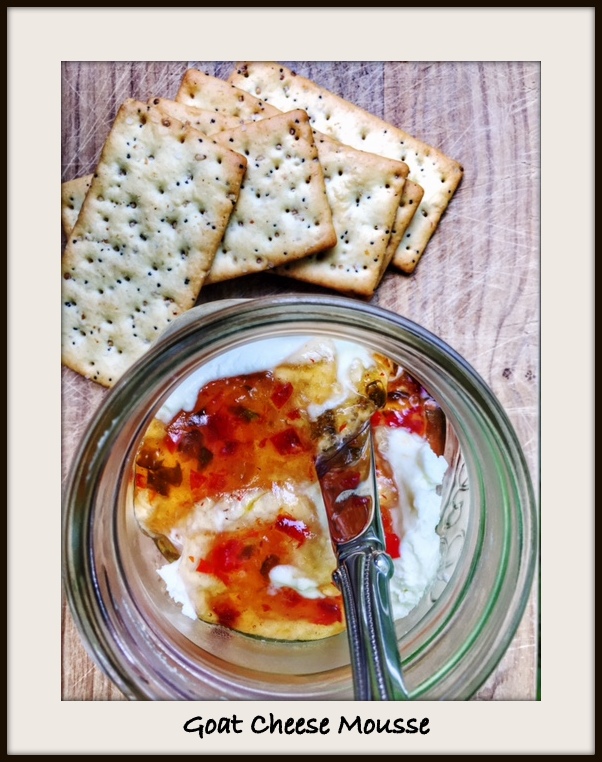 Goat Cheese Mousse
Ingredients
4

oz.

goat cheese

5-6

tablespoons

heavy cream
Instructions
Put goat cheese into a mixing bowl, with an electric mixer beat until smooth, gradually add heavy cream, one tablespoon at a time. Continue until goat cheese is smooth and fluffy. Typically it will take 5 - 6 tablespoons of cream. Once mixture is fluffy, spoon into a serving container. Top with preserves or chutney of choice.

You can easily adjust the recipe according to the amount of goat cheese used.