Who doesn't love a hot cup of coffee with a wonderful biscotti? However, many times the store bought variety are so hard and crunchy from being on the shelves that you almost miss the melt in your mouth goodness of biscotti. I have made many varieties of biscotti and this one is one of my favorites. The secret to getting a crisp biscotti is the double baking. After you try these, I am sure your days of purchasing biscotti will be over.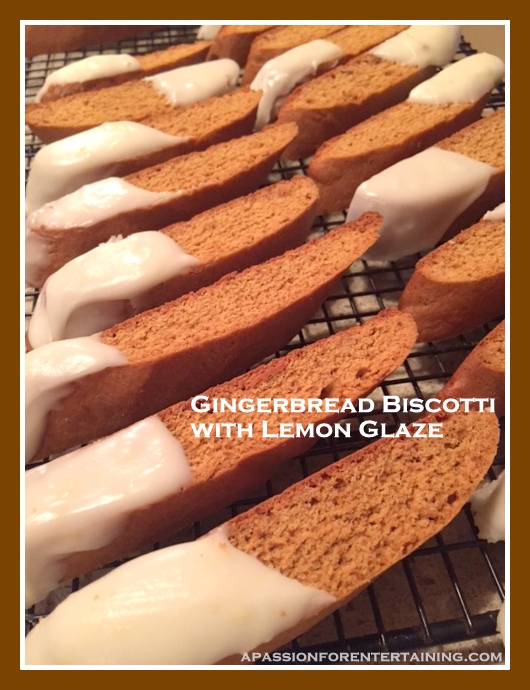 Gingerbread Biscotti with Lemon Glaze
2015-10-02 13:31:08
Ingredients
1/2 cup packed brown sugar
1/2 cup canola oil
1/2 cup molasses
2 eggs
2 3/4 cups flour
1 teaspoon baking powder
1/2 teaspoon cinnamon
1/2 teaspoon ground ginger
1/4 teaspoon baking soda
1/4 teaspoon salt
Instructions
Preheat oven to 350. Combine brown sugar, oil, molasses and eggs in a large mixing bowl. Combine on low speed. Gradually add remaining ingredients. Turn dough out onto lightly floured board and knead until smooth. Add additional flour if mixture is too sticky. Divide dough in half. Shape each half into a rectangle approx. 10 x 3 inches. Place on a parchment lined baking sheet. Bake for 25 - 30 minutes, cool on a wire rack for 15 minutes. Slice logs into 1/2 diagonal pieces. Turn slices cut side down on baking sheet. Bake an additional 15 minutes; turn after 7 minutes. Cool on a wire rack. Dip in lemon glaze and place on parchment paper or wax paper until set.
Notes
Lemon glaze
Combine 1 1/2 cups powdered sugar, 3 tablespoons melted butter, 1 teaspoon grated lemon peel and 2 - 4 tablespoons lemon juice. Mix until smooth and dipping consistency. (If too thick you can add more lemon juice).
A Passion for Entertaining http://apassionforentertaining.com/