I am not sure what is better – the taste of these cookies or the aroma in your kitchen while these are baking. Both are divine. Ginger Snaps are one of my favorite cookies. Perfect anytime of day, delicious with coffee or milk. Brings back memories every time I bake these of growing up and my mom baking these cookies.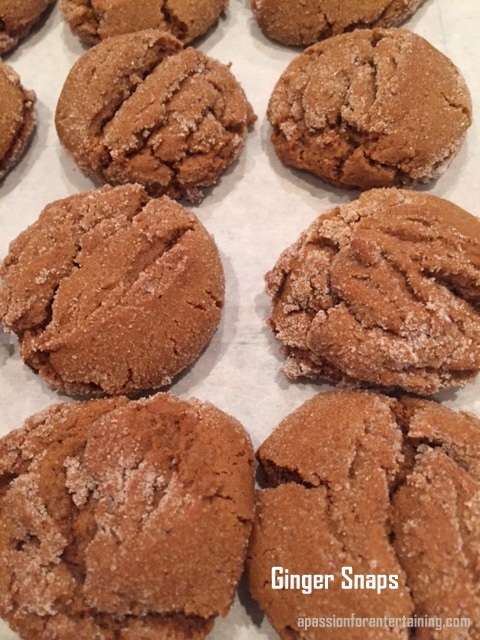 Ginger Snaps
2016-02-08 14:49:01
Ingredients
1 1/2 cup vegetable shortening
2 cups sugar
2 large eggs
2 teaspoons vanilla extract
1/2 cup molasses
4 cups flour
4 teaspoons baking soda
2 teaspoons ground cinnamon
2 teaspoons ground nutmeg
2 teaspoons ground cloves
2 teaspoons ground ginger
2 teaspoons salt
Instructions
Preheat oven to 375 degrees.
In a mixing bowl, cream together shortening and sugar. Add eggs, vanilla and molasses. Mix well. Add flour, baking soda, cinnamon, nutmeg, cloves, ginger and salt to the molasses mixture. Mix well. Roll into 1 inch balls and roll each ball in sugar. Place on parchment lined or ungreased baking sheets. Bake 375 for 7 - 9 minutes.
A Passion for Entertaining http://apassionforentertaining.com/