Frozen Key Lime Pie is the perfect make ahead summer dessert. This past week, I was traveling out of town and the night I was returning, we were going to a dinner and I was bringing dessert. I remember my mom had a frozen pie recipe in her recipe card box and thought that would be the perfect pie to make. This pie recipe is so easy, the only cooking involved is baking the graham cracker crust prior to filling the pie. I also added a whipped cream topping. Make it now, freeze for later and just bring out of the freezer thirty minutes prior to serving. I will also admit that due to time constraints, I used bottled key lime juice and the results were delicious. There are some shortcuts that just make life easy and bottled 100 percent key lime juice works great in this recipe.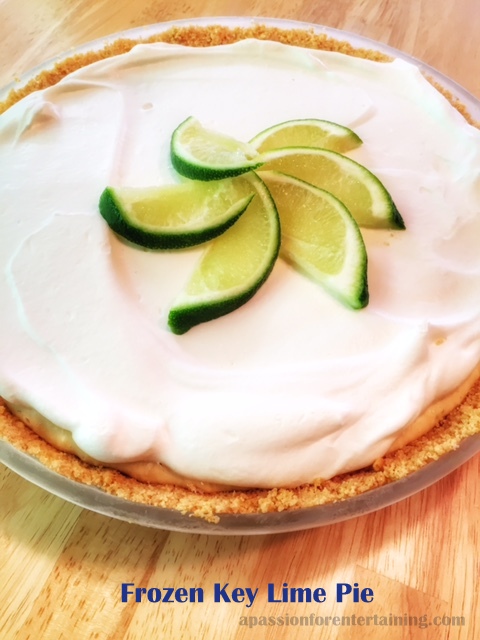 Frozen Key Lime Pie
Ingredients
1

9 inch

graham cracker crust

1

8 oz.

package cream cheese,

softened

1

14 oz.

can sweetened condensed milk

1

cup

evaporated milk

1/2

cup

key lime juice

2

teaspoons

grated lime peel

1 1/2

cups

whipping cream,

whipped

thin slices of lime,

for garnish
Instructions
Prepare graham cracker crust. In a medium bowl, beat cream cheese at medium speed until smooth. Slowly add sweetened condensed milk, evaporated milk, key lime juice; blend until smooth. Fold in lime peel. Pour into prepared graham cracker crust. Freeze. for 2 hours. In a medium bowl, whip whipping cream until stiff peaks form, remove pie from the freezer, top with whipped cream. Return to freezer and freeze until firm. Cover tightly with plastic wrap. Remove from freezer 30 minutes prior to serving. Top with lime slices, if desired.
Graham Cracker Crust
Ingredients
1 1/4

cups

graham cracker crumbs

1/4

cup

sugar

5

tablespoons

butter,

melted
Instructions
Preheat oven to 350 degrees. Mix all ingredients until blended. Press into a 9-inch pie plate. Bake 6 - 8 minutes or until lightly browned. Cool prior to filling.