I just love eggs. I think it is a perfect food, good for you and delicious. My favorite egg is over easy with a piece of toast. However, for the sake of debate, I am always trying new ways to cook that perfect egg dish. This frittata is very easy to assemble and a wonderful additional to any breakfast or brunch. You sauté the vegetables, top with the egg mixture and then pop in the oven for thirty minutes. I like to serve this with salsa on the side. You could also serve warm tortillas on the side with.sliced avocado, that would be a perfect match for the frittata. Slice the frittata, place in a warm tortilla and you have a unique breakfast taco.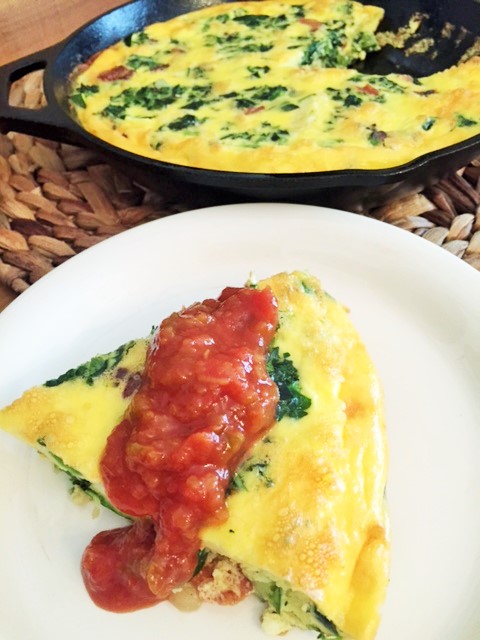 Frittata with Salsa
2015-01-31 07:08:00
Ingredients
2 slices thick-sliced Applewood smoked bacon, diced
1 small onion, diced
1 small zucchini, sliced
10 oz. frozen chopped spinach, cooked and well drained
Salt and pepper, to taste
1/2 teaspoon dried oregano
3/4 cup heavy cream
6 eggs
salsa
Instructions
Preheat oven to 350 degrees.
Diced bacon and cook in ovenproof 10 inch skilled. Remove bacon, drain bacon fat, reserve 1/4 cup in skillet. Sauté zucchini and onion until onion is transparent. Add bacon, spinach, salt and pepper, and oregano to skillet, combine. In a medium size bowl, lightly beat eggs with cream. Pour over vegetable mixture in skillet.
Bake 30 minutes.
Serve with salsa.
A Passion for Entertaining http://apassionforentertaining.com/