After a busy weekend in Atlanta, I would be remiss not to highlight some of my favorite food stops. After successfully securing a reservation at St. Cecilia, 3455 Peachtree Road in Buckhead we headed there for dinner on Friday night. It was a fantastic and memorable meal. The highlights of the night were the focaccia bread with the ricotta spread, crispy on the outside and pillow soft on the inside, one recipe that I am going to have to try to recreate. Follow that with raw oysters served with a diced apple, mignonette and harissa sauce. Sweet, hot with a slight vinegar zing, a must try for oyster lovers. A large Salami e Formaggi board with dried fruit, fruit mostarda,, and warm piadine (thin Italian flatbread) surrounded by gouda, mahon, casalingo, and lonza cheeses and a mound of paper thin sliced prosciutto. Nothing could be better with a bottle of pinot noir. We finished off with red wine braised beef short rib, parmigiana cream, and sage agnolotti. A delightful meal in a beautiful venue, what could be better?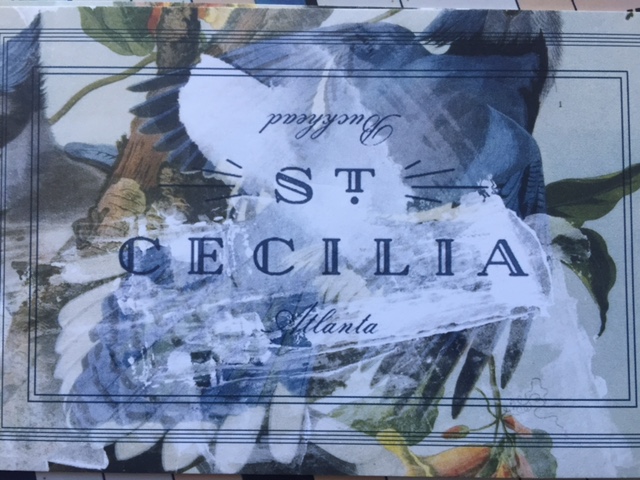 The following day we stopped at Smokebelly BBQ, 128 E. Andrews Dr. NW in Buckhead for lunch. This is the best of southern BBQ and they serve a large assortment of sauces to try with your meal. After tasting many items on their menu, a few were definite standouts. The Mini Sausage Corn Dogs are served on skewers for dipping, One bite and the comment we all had was how incredible the dough was, like biting into a cloud only to find the perfect sausage bite in the middle. Served along side the corn dogs was a Carolina gold mustard sauce. Then came a plate of Blistered Peppadew Peppers served over goat cheese, roasted almonds, black pepper honey and house-made crackers. I could have stopped there. I would be remiss not to mention the Cherry Cola Ribs, Sweet Potato Souffle, Mac and Cheese and smoked meats. At that point we had to ask for take out boxes to pack the rest for take home. Absolutely everything was fantastic, I can't wait to go back.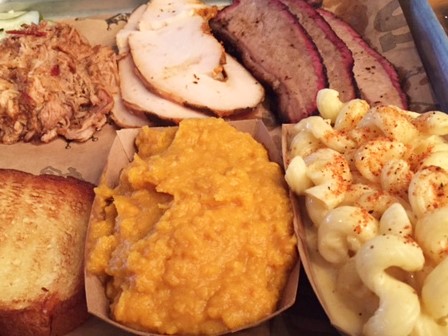 My final stop on Sunday was Café Jonah, 3188 Paces Ferry Northwest, Atlanta. A fixed price brunch on Sunday was incredible. It appeared that everything was made onsite with warm pots of oatmeal, grits, cheese strata ( the one I had was outstanding with sun-dried tomatoes), prosciutto wrapped melons, sweet bites, cinnamon twists and too many things to even try. Glorious to sit on their patio on a warm Georgia morning. I had to say farewell to Atlanta, can't wait until my next visit.