With Memorial Day around the corner, it is time to start thinking about picnics. I have a fondness for picnics ever since I meet my husband and when we were dating we picnicked almost every weekend. I wish I could tell you that that has continued, we still love to picnic, however, not as frequent as we would like. But I still call eating on our porch, picnicking! Anyway, this Fingerling Potato Picnic Salad is perfect to take along. I know many do not like mayonnaise based dressings, this salad is topped with an herb sour cream dressing. Fingerling Potato Picnic Salad is especially good served at room temperature. Do not hesitate to add any other raw vegetables you might have on hand. With the farmers' markets opening, be on the lookout for farm fresh potatoes and vegetables.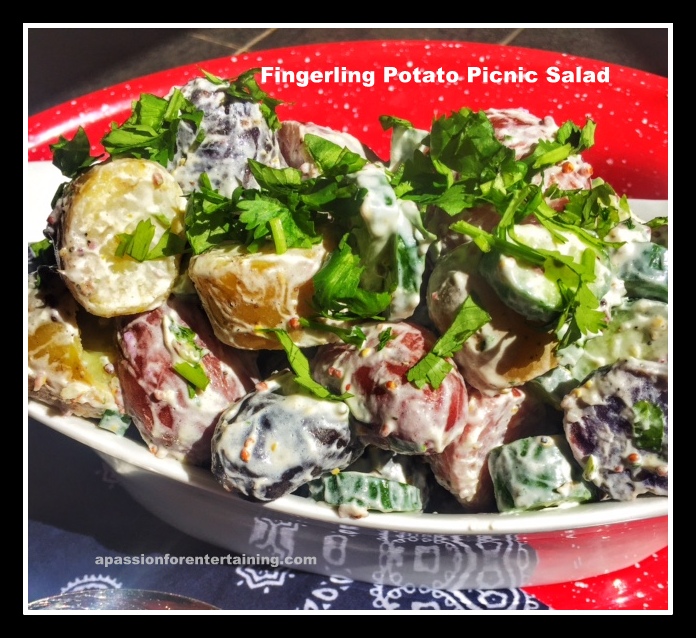 Fingerling Potato Picnic Salad
Ingredients
24

ounces

fingerling potato medley, various colors

kosher salt

freshly ground black pepper

3

tablespoons

white wine vinegar, divided

1

tablespoon

whole grain Dijon mustard

2

teaspoons

olive oil

3

tablespoons

minced fresh chives

1/2

cup

cucumber, chopped

1/4

cup

minced cilantro
Instructions
Cut potatoes into 1/2 inch segments. Add to a medium saucepan, cover with water, add one tablespoon salt and 1 tablespoon white wine vinegar. Bring to a boil over high heat reduce heat, cover and cook until fork tender 15 - 18 minutes. Drain potatoes and place in a shallow bowl, mix with 1 tablespoon white wine vinegar. Cool to room temperature. In a small bowl mix together mustard remaining 1 tablespoon white wine vinegar, olive oil and chives. Add cucumber and cilantro to the potatoes. Season with salt and pepper, to taste. Toss with dressing. Mix well. Serve at room temperature or refrigerate. Bring to room temperature prior to serving.