Recipe #3 in the Spartan Oil #EVOOChallenge.
I use olive oil exclusively when I saute vegetables or protein for any recipe. One reason is olive oil is a monounsaturated fat, and is considered a good fatty acid (high density lipoproteins, HDLs) that protects against bad cholesterol, or low density lipoproteins (LDLs). One other reason is the taste – I love the taste of olive oil.
This recipes features the taste of the Mediterranean. The dill, olive oil and feta add just the touch to create a unique recipe. When I served this to my taste testers, this recipe received five stars! Easy to prepare and perfect for entertaining.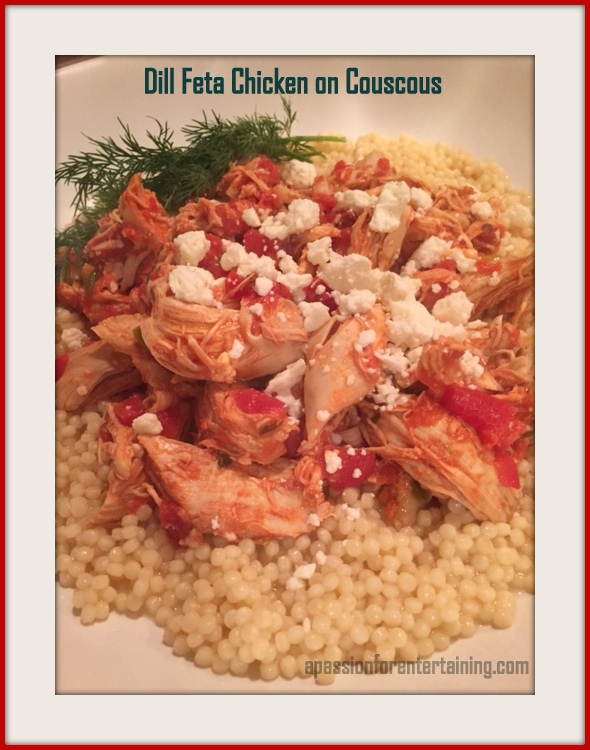 Dill Feta Chicken on Couscous
2016-01-18 07:10:20
Serves 6
Ingredients
3 cups cooked, shredded chicken breasts
3 scallions, sliced, white and green parts
1 large garlic clove, small dice
3 tablespoons Spartan Olive Oil
1 28 ounce can diced tomatoes with liquid
2 tablespoons tomato paste
1 tablespoon balsamic vinegar
2 tablespoons fresh dill, minced
8 ounces feta cheese, divided
Olive oil, to drizzle over chicken
Couscous, prepared according to package
Instructions
In a large saucepan, saute scallions and garlic in olive oil until translucent. Add tomatoes and liquid, balsamic vinegar, and tomato paste. Bring mixture to a boil. Reduce heat and simmer until thickened (approximately 10 - 15 minutes). Add chicken, dill and 1/2 of the feta cheese. Cover and reduce heat to low. Prepare couscous.
Spoon couscous in serving bowl, top with chicken mixture, sprinkle with remaining feta and drizzle with additional olive oil.
Notes
My favorite couscous is all natural, grande pearl shaped.
A Passion for Entertaining http://apassionforentertaining.com/