Every once in awhile, I bake a cake. I must admit vary rarely, however, always for birthdays and then it is usually a carrot cake. So, baking a Devil's Food Cake is a real treat. I never use cake mixes, I guess I am a purist and I always want to know what is in the food we eat. Additives and preservatives – I avoid at all costs. I know sometimes I cannot avoid then, but when I have the choice, I prefer to bake from scratch. I know this a holdover from my mom and happy to say I can continue her traditions. This cake is just divine and easy to prepare. I topped mine with Seven Minute Fluffy Frosting and it is excellent.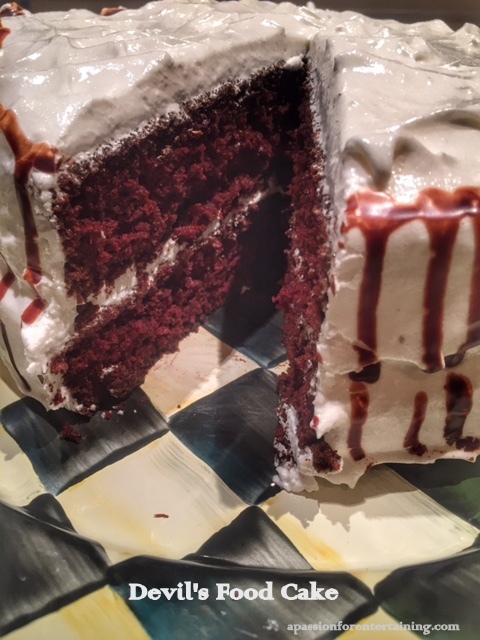 Devil's Food Cake
Ingredients
2 1/2

cups

flour

1/2

cup

unsweetened cocoa powder

1 1/2

teaspoon

baking soda

1

teaspoon

salt

1

cup

sugar

1/2

cup

shortening

1

teaspoon

vanilla extract

3

eggs

divided, separate yolks and whites

1 1/2

cup

cold water

3/4

cup

sugar
Instructions
Preheat oven to 350 degrees. Grease and flour two nine inch cake pans. In a medium bowl sift together the flour, cocoa powder, baking soda and salt, set aside. In a large mixing bowl, beat shortening on medium speed for 30 seconds. Add the 1 cup sugar and vanilla and beat until fluffly. Add the egg yolks, one at a time and beat well after each addition. Add dry ingredients and water alternately, ending with the dry ingredients. Mix until all dry ingredients are incorporated. In a separate bowl, beat the egg whites until soft peaks form. Slowly add the remaining 3/4 cup sugar, beat until stiff peaks form. With a spatula, fold the egg whites into the cake batter. Divide the batter between the two prepared cake pans. Bake for 30 - 35 minutes or until a tester comes out clean. Cool cakes for 10 minutes prior to removing from pans. Cool completely, frost.
7 Minute Fluffy Frosting
Ingredients
2

cups

sugar

1/2

teaspoon

salt

1

teaspoon

cream of tartar

4

egg whites

6

tablespoons

water

2

teaspoons

vanilla extract
Instructions
For this recipe you will want to use your electric hand mixer.

In a stainless heavy bottom saucepan combine all ingredients except the vanilla extract. Place pan on burner over medium low heat. Beat with electric hand mixer on high speed for 7 minutes, while the burner is on. Remove the pan from the burner, mix in the vanilla. The frosting should be light, fluffy and stiff peaks form. Frost middle and sides of cake. For decorative chocolate drizzle, melt 1/2 teaspoon shortening and 1 1-oz. block of unsweetened chocolate, drizzle over sides of cake.