When I first saw spiral cut vegetables I was certainly intrigued. Friends were purchasing them and stores were selling spiral vegetables slicers and spiral sliced vegetables- so, what to do? Try them. I am a fan and I think the more interesting ways you can cook and serve vegetables the better. I took our favorite pasta recipe and instead of pasta, substituted summer squash. I think it is delicious and fun to eat. If you haven't tried spiral cut vegetables, now is the time!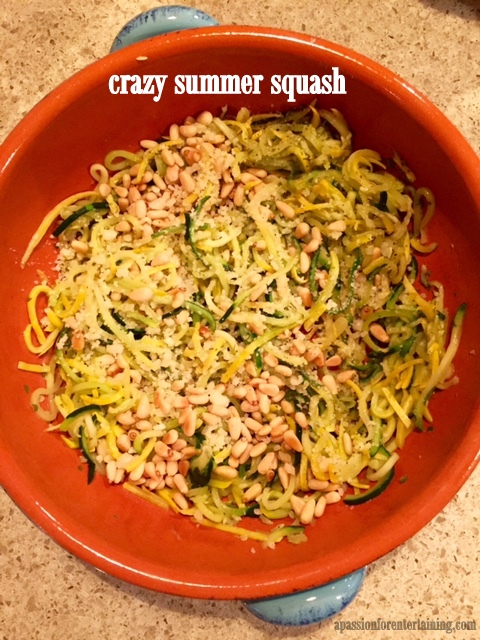 Crazy Summer Squash
2016-04-19 16:03:41
Ingredients
4 spiral cut zucchini or yellow summer squash
2 tablespoons olive oil
1/3 cup pine nuts, toasted
1/2 cup fresh grated parmesan cheese
2 tablespoons unsalted butter
2 tablespoons Italian parsley, chopped
Fresh ground black pepper
Additional olive oil to drizzle over the squash, if preferred
Instructions
Heat a medium size skillet over medium high heat, add olive oil. When hot, saute squash for approx. 2 - 3 minutes, stirring constantly. Remove from heat, in a medium bowl, toss squash with remaining ingredients. Serve immediately.
Notes
A great variation is adding sliced cherry tomatoes and 1/4 teaspoon red pepper flakes to the squash when cooking.
You can adjust the amounts depending on the number you are serving - the above recipe serves 2 - 3 vegetable lovers.
A Passion for Entertaining http://apassionforentertaining.com/