Bar cookies are the easiest cookies to make. With this recipe you mix the ingredients in a saucepan, the same pan that you melt the butter in. So easy to assemble and the bars are moist and delicious. My husband is the ultimate cookie lover. I know when he says this is a 'winning' recipe that it is good. He is the best gauge of a cookie recipe. You can be assured that this recipe has been given the blue ribbon by my cookie lover.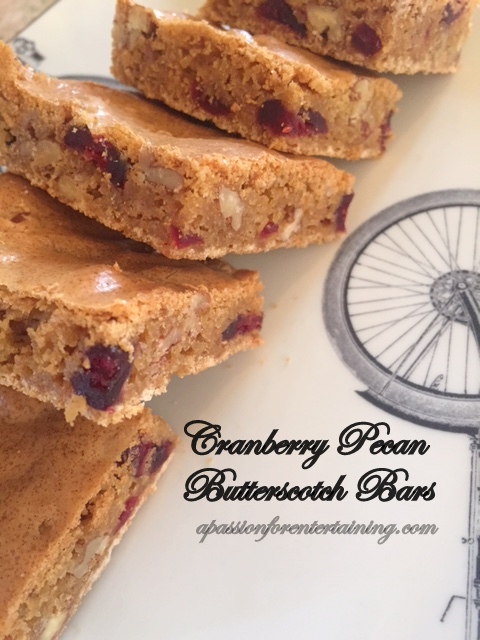 Cranberry Pecan Butterscotch Bars
2015-03-22 15:27:22
Ingredients
1/4 cup butter
1 cup packed brown sugar
1 egg, slightly beaten
1 teaspoon vanilla
3/4 cup flour
1 teaspoon baking powder
1/2 teaspoon salt
1/2 cup dried cranberries
1/2 cup chopped pecans
Instructions
Preheat oven to 350.
Melt butter is a medium sauce pan over low heat. Remove from heat. Stir in brown sugar. Slowly add egg and vanilla, stir quickly with a fork. (You do not want the egg to scramble) Stir in remaining ingredients.
Spread in a greased 8 inch square pan.
Bake 25 minutes.
Cool. Cut into squares.
A Passion for Entertaining http://apassionforentertaining.com/